How to integrate Doppler with your Vtex store
Developing your Database is only the first step to improve your Online Store results. Once you catch those contacts that subscribe in your Website but don't buy, the following step is to nurture them in order to convert them into customers. This is where Email Marketing takes the center stage.
Integrating Doppler with your Vtex E-commerce you can synchronize both platforms and automatically send all the contacts you generate in your store to a Subscriber List. Then it only remains that you create Email & Automation Marketing Campaigns to reach each Subscriber with the right message at the right time.
What if you could also program automatic and dynamic emails from Abandoned Cart and Visited Product to bring your visitors back to your E-commerce? This is also possible!
In this tutorial you'll learn:
How to integrate Doppler with your Vtex store step by step
Before you begin, make sure you have the App Key and Token from your Vtex store. Those credentials can only be generated by the Master User, which is the one that you can find at the Contact section into your VTEX account.
To create your App Key and Token, log into your account, go to the "Account management" section and click on "Accounts".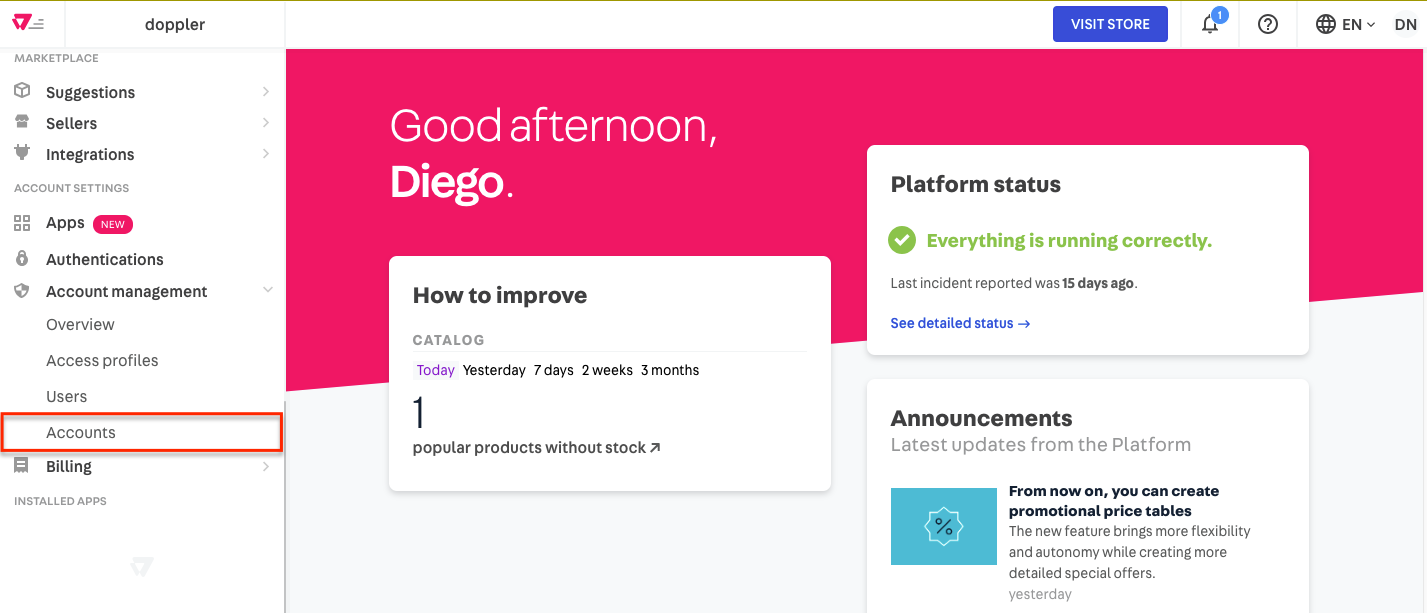 There you will have to click on the name of your account.

Go to the "Security" section and click on "Generate access key and secret".

A pop up will be displayed, there you'll have to enter a name for this data. We've called them "Doppler – Vtex Integration". Then click on "Generate new secret". After copying the Token, click "OK".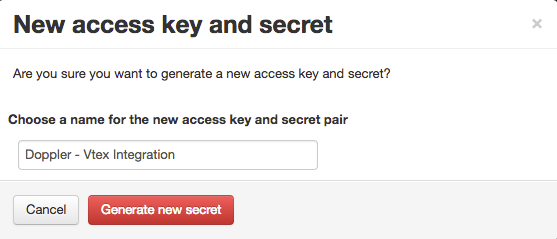 You'll see the Token on your screen. Attention! For security reasons the Token is displayed only once, so we recommend that you copy it and keep it in a safe place.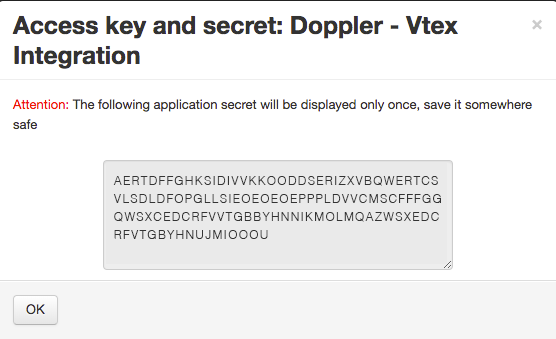 You'll return to the screen where you were before. In the Security section, you'll see the App Key next to the name of the Access Key.

Attention! Before go ahead, be sure that the App Key and Token you have just created are associated with any user profile that you have into your VTEX account.
Our advice is to associate those credentials with a Owner (Admin Super) user. You can set it easily from Account settings / Users. 

Select the App Key and Token, click on Add profile and choose Owner (Admin Super). Don´t forget to save the changes!

If you prefer to create a profile with limited permissions to associate with the App Key and Token and then use them to integrate VTEX with Doppler, you can do it in Settings account / Account Management / Access profiles with restricted permissions.
In that case, we suggest you to contact with our Customer Support team in order to check which kind of permissions the profile needs, so the integration between VTEX and Doppler will be successfully. And you will be able to enjoy the power of it!
Once you've obtained the App Key and Token data from your Vtex account, you'll have to log into your Doppler account to complete the process. If you don't have one, you can create it for free. Then go to the "Control Panel".

Go to the section "Integrations and advanced preferences", there you will find the Vtex logo.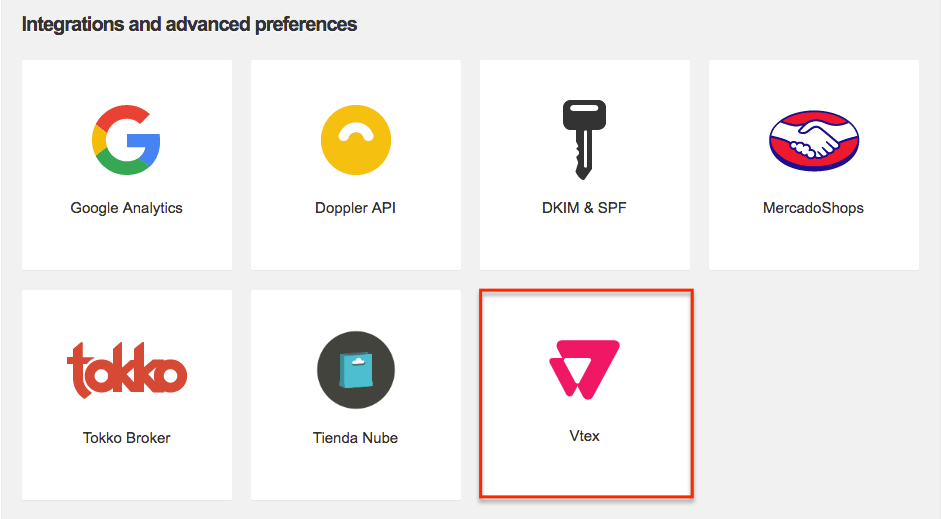 Later you'll see the fields that appear below. These are the ones that you must complete with the data that you have already obtained from your Vtex account.
Select the Subscribers List you want to send Contacts of your store. Then click "Connect".
The data will begin to synchronize. This may take a few minutes depending on the amount of contacts you have. It's important to clarify that all the data related to your Subscribers will be imported and associated to each one.
It's very important that you have created in Doppler the Custom Fields associated with the data you wish to import. For example, if you want the "address" information appears in the Subscriber, you must have created this field in your Doppler account.
Remember that you can also perform a manual synchronization whenever you want by pressing the icon indicated in the image.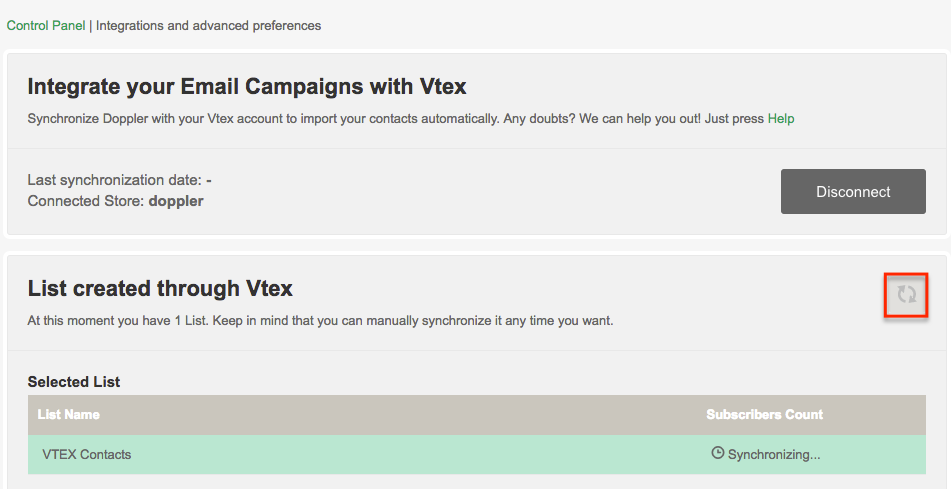 Once the synchronization is done all Subscribers imported from your store will appear with the "VTEX" Origin.

How to add your Vtex products into your Emails
Now that you have integrated your Doppler and Vtex's accounts, you can add your products into each Template, exactly as you show them on your online store!
To begin, you must log into your Doppler account. Once you have completed the previous steps and you have reached the creation of the Campaign Content, you must click on "Template Editor".

Choose the Template that best suits your needs and select "Save".
Once inside the Template Editor, go to the "Products" section in the panel and drag one of the elements: 1, 2, 3 columns or Image and Text.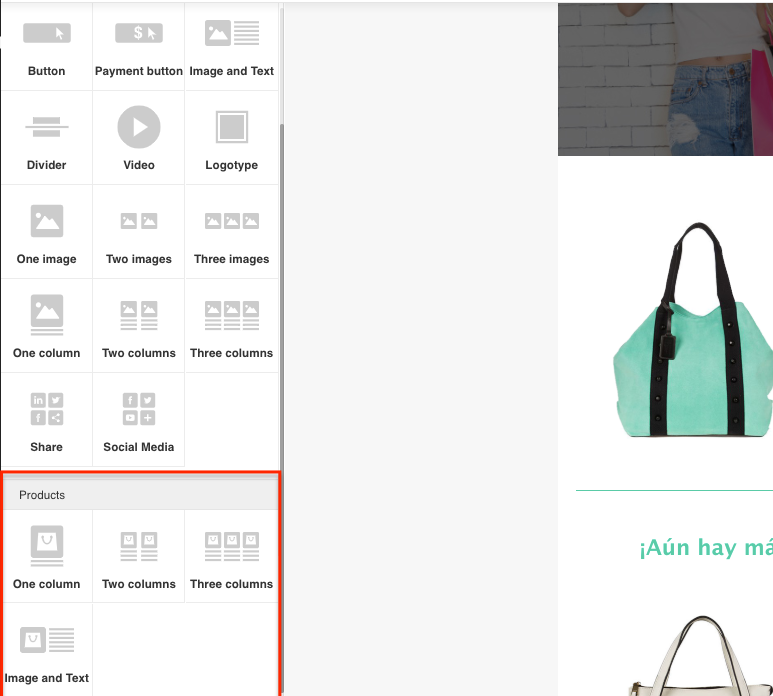 Click on "Edit" next to the element and you'll see the products available in your Vtex store.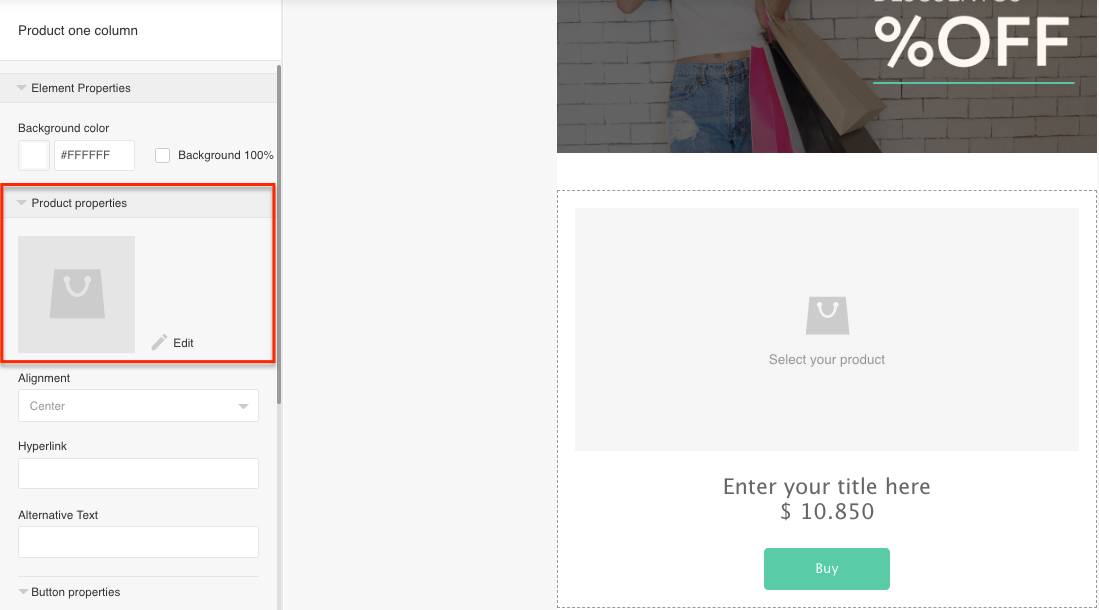 By selecting one of them, it'll be added to the canvas with its description and price.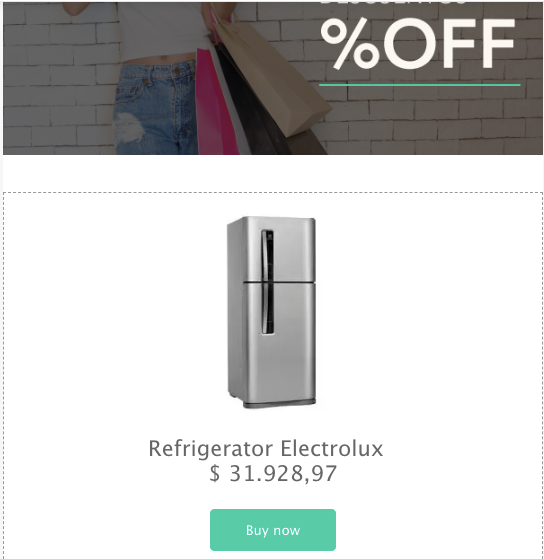 How to use the Automations of Abandoned Cart and Product Retargeting on your VTEX E-commerce
There are two must-have automations to attract into your store those visitors who abandoned their product cart, or who saw one or several products items but did not initiate the purchase.
The most amazing part is that you have available the Automations of Abandoned Cart and Visited Product 100% FREE, so there are no excuses! Start now and you will see that they are very easy to implement.
That's all! Now you can create your Email Marketing Campaigns and schedule automated Emails to convert Subscribers into loyal customers of your store.
Have a great Campaign!