How to integrate your Tienda Nube account with Doppler
If you have your online business on Tienda Nube and want to build your customers' loyalty with fabulous Email Marketing Campaigns, discover in this article how to integrate both tools to get the most out of them.
Follow the steps below and you will not only be able to import your Tienda Nube's contacts to a Doppler List automatically, but also, you will be able to send them Campaigns with the products that you have loaded on your online store, the same way your customers see them on your site.
After making the integration between platforms you can start using the Automation of Abandoned Cart and Product Retargeting to bring back to your Store the Contacts interested in your products.
Pay close attention!
Step by step to integrate Doppler with Tienda Nube
Firstly, you must log into your Doppler account. Don't you have one yet? Create it now! It's free and has no shipping limits, so do not hesitate.
Once you have acceded your Doppler account, you must go to the Control Panel.

Now, you must go to the Integrations and Advanced Preferences section and choose Tienda Nube.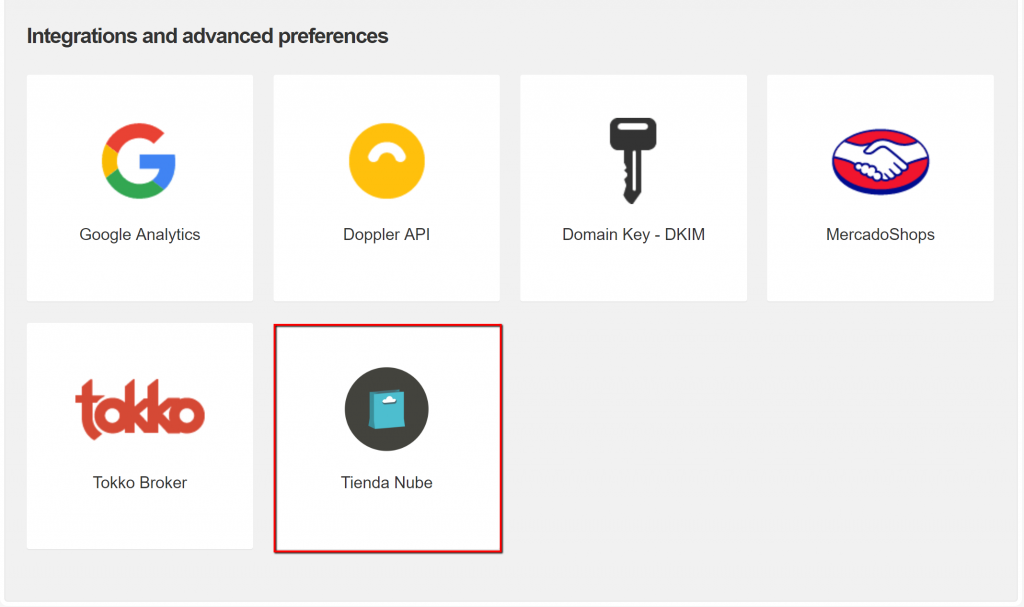 It's time to integrate your Email Campaigns with Tienda Nube. This way, you will be able to import your contacts automatically. Click on the Connect button.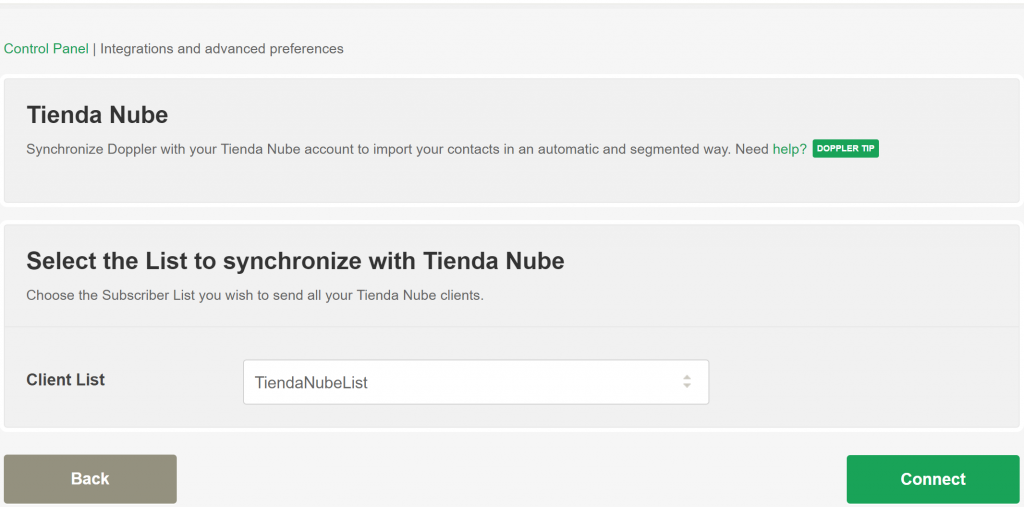 Now a window will be opened asking you for the user and the password to access Tienda Nube. Complete this information and click Login.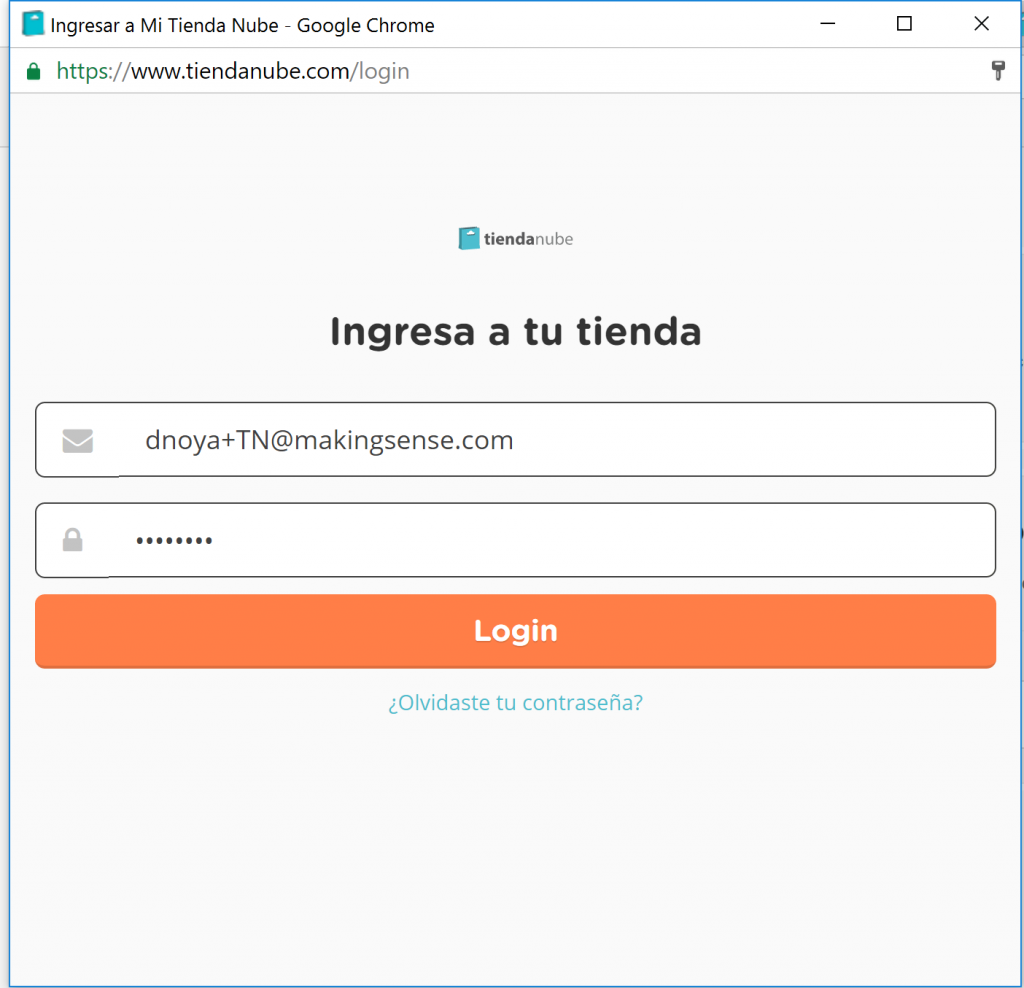 Your Doppler and Tienda Nube accounts are now integrated!
Also, you'll know the last synchronization date. You can click on the Synchronize button to access to the latest Tienda Nube's data manually. Anyhow, Doppler will synchronize your data once a day automatically.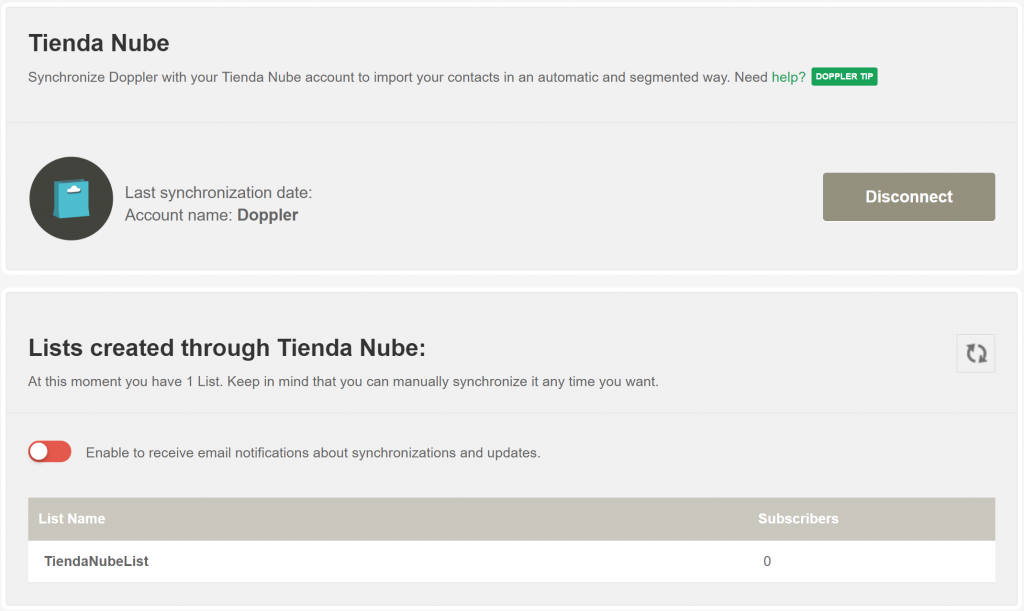 From now on, your Tienda Nube's contacts will automatically add up to your Doppler Subscribers' List, so that you can send them super attractive Campaigns offering the products you have on your online business, just as you show them on there.
How to integrate your Tienda Nube's publications into your Doppler Campaigns
Now that you have integrated your Doppler and Tienda Nube's accounts, you can add your products in your Templates , such as you offer them on your online store.
In order to achieve this, you must have logged into your Doppler account. Once you have completed the previous steps, you will be asked to create the Campaign's Content. At this point, click on Templates Editor.

Choose the eCommerce Template that best suits your needs and select Next.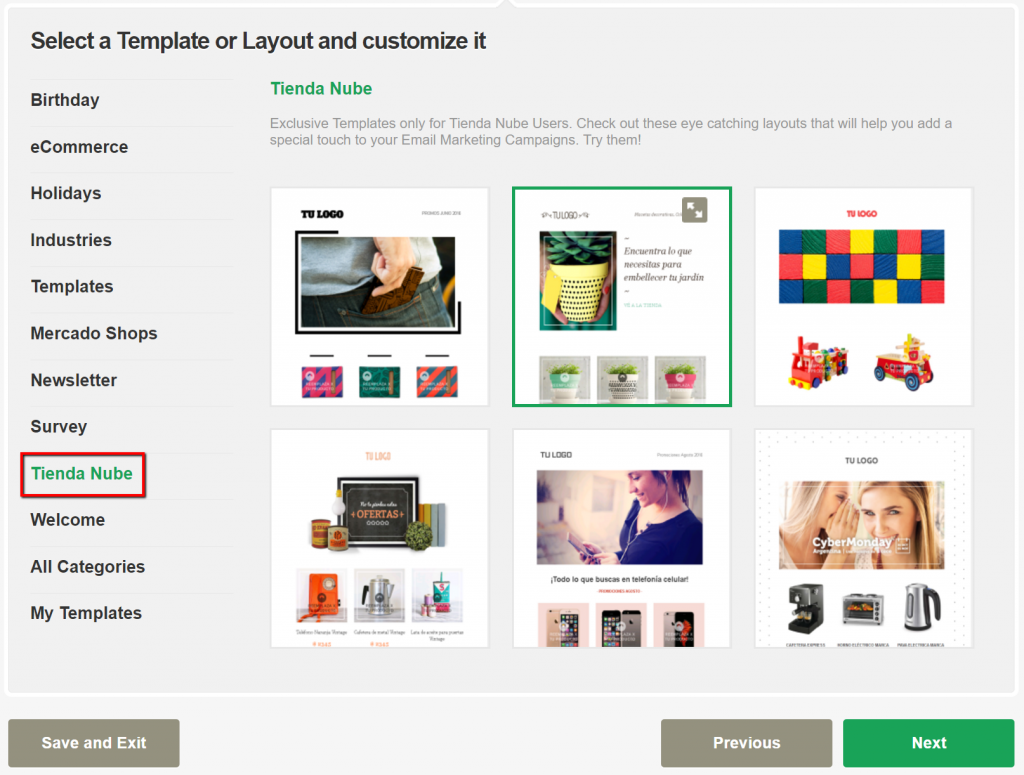 By doing this you will access our Editor to customize your Template. You'll find a category called Products.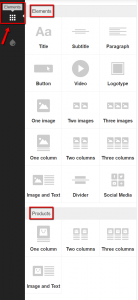 As you see, you can choose One Column, Two Columns, Three Columns or Image and Text. You also have these elements among your traditional Elements, but in this case, they have a special design for you to add your products, just the way your users see them on the Tienda Nube's platform.
To insert one of these items, you can drag and drop them, as you have always done it. For example, if you choose Two Columns, you'll see this: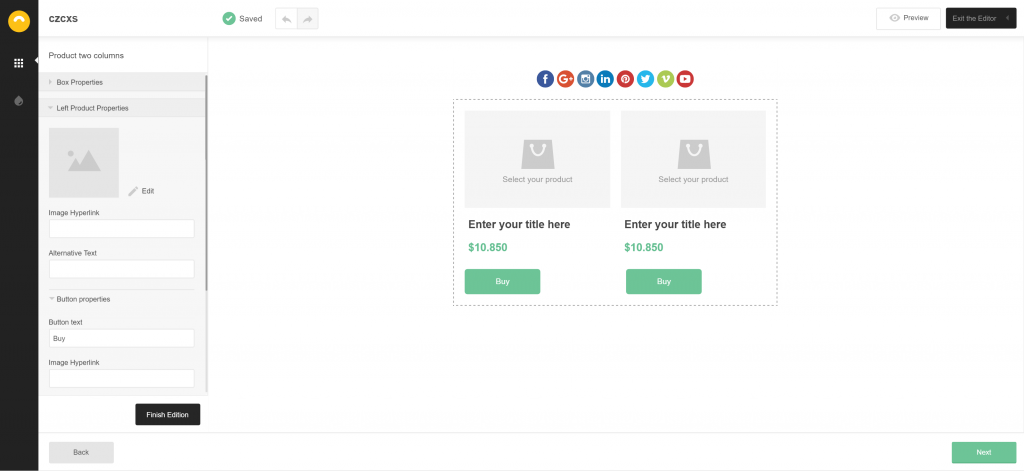 On the left side of the screen you will see all the options to customize the selected Element. The first thing you have to do is to choose the product you want to add from the Tienda Nube's gallery. To do so, you must click on the space you have to add an image.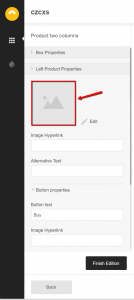 A gallery with all the products you have in your Tienda Nube's account will be opened. You must choose one and click Select.
The product will look like this in your Template: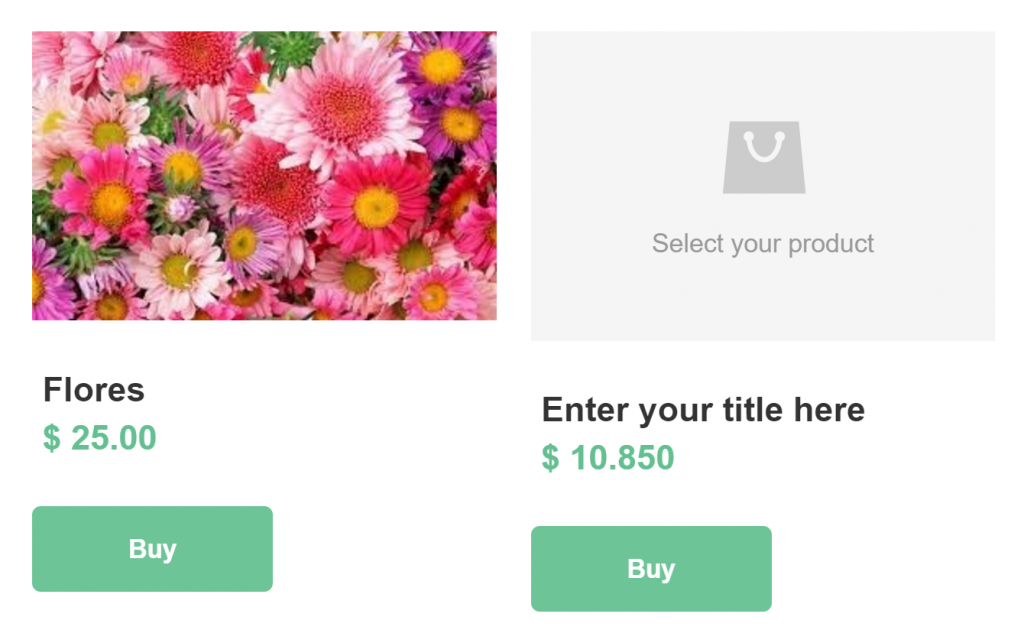 As you can see, the Editor will add not only the image of the product, but also the price, the description, the alternative text and the CTA you loaded in the Tienda Nube's platform.
All these data, besides the background color, can be edited depending on your preferences for your Campaign.
And that's all! Now, when your contacts open your Campaigns, they will be able to click on the image or the product description that they are interested in and will be driven to your site to materialize their purchases!
Multiply your conversions on Tienda Nube with great Campaigns
As you can see, in Doppler we take care of growing your business in the simplest way for you.
From now on, every time you send a Campaign, Doppler will take all the necessary data from your online store and put it at your disposal for you to offer your best products to your customers, in the most attractive way.
How to use the Automations of Abandoned Cart and Product Retargeting on your Tienda Nube E-commerce
There are two must-have automations to attract to your store those visitors who abandoned their product cart, or who saw one or more specific items but did not initiate the purchase.
While the Automation of Abandoned Cart is 100% FREE for all Tienda Nbe users, Product Retargeting Automation requires that you have a paid account on Doppler.
Do you wonder why? The reason has to do with the complexity of this feature. The information needed to generate and send these emails in a dynamic and automated way, is not obtained from a public API, but from on-site behavior script that Doppler provides 100% bonus for a limited time on all payment plans.
Do you want to enable the functionality of Site Behavior and Product Retargeting? Find out more in this post and discover the available Plans.
Maximize your sales with this great integration!