How to send SMS Campaigns?
If you haven't tried it yet, let us tell you why SMS Campaigns are the perfect complement to your Email Automation strategy.
Some of SMS strengths for Marketing Campaigns are:
Great

reach

: the recipient does not need cellular data.

Are

read

within minutes of delivery.

Improve the overall

results

of your strategy.
Wondering how and what can you use SMS for?
Welcoming to a community or Subscriber List.

Sending offers and promotions.

Exclusive invitations to events.

Reminders and alerts of interest for your Subscribers.

If you have an E-commerce, do not hesitate and tempt your customers with Abandoned Cart SMS.
Sending your SMS Campaigns in Doppler is very simple.

First, remember that you must have a Paid Plan to make use of this functionality. You can start by creating your account.
SMS is always associated with an Email Automation flow and works as unidirectional messages.
Here is a step by step guide to help you configure your SMS.
How are SMS managed in Doppler?
From the Control Panel of your Doppler account you can see the SMS Settings option. Also, as with your credits for Email Campaigns, you will see the funds available for your SMS all the time.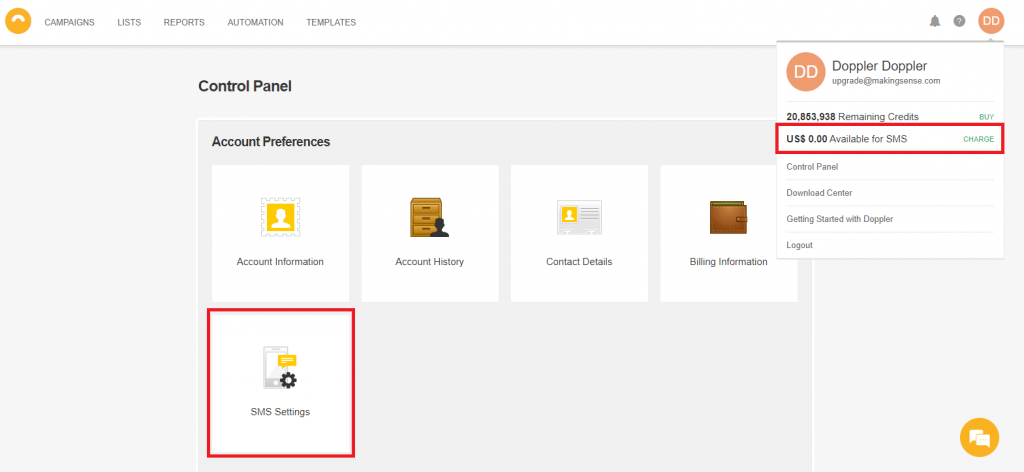 In the same drop-down menu of your account you will find the option Buy, for when you want to add funds for your SMS.
Once inside, you will see your SMS Panel. You'll find there Available Funds and Active Countries for your SMS communications. In order to move forward, you must Add countries. If you do not add any countries, you will not be able to configure SMS Campaigns.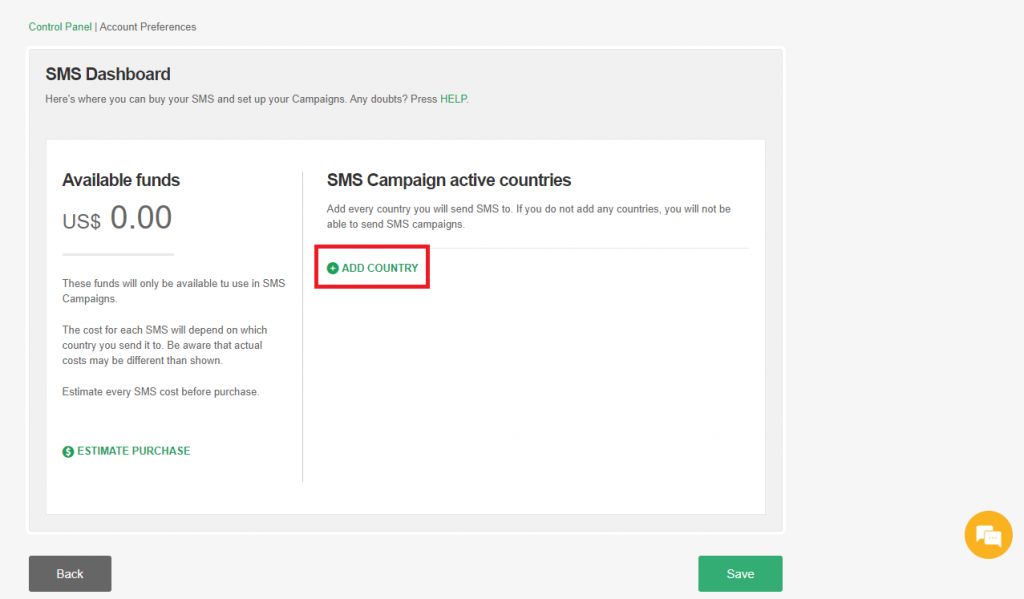 As you add countries, you will see the average Cost per SMS for each one. This way, you can start to plan how to implement your strategy.

Let's see how to add funds for your Campaigns. Remember that funds shown in your SMS Panel are for SMS communications only. If you click on "Estimate purchase", you will be able to see estimated costs for your Campaigns.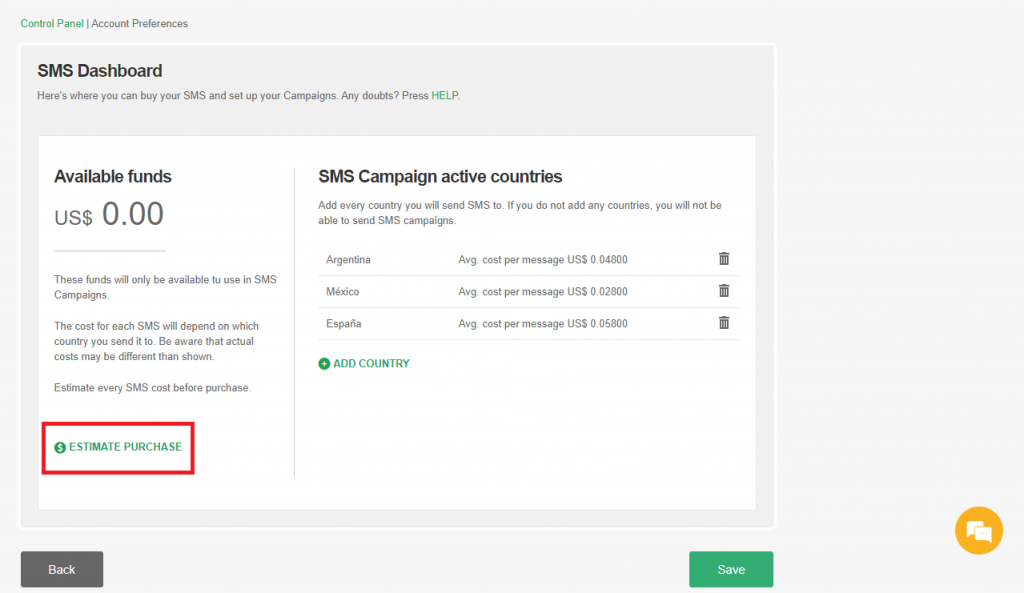 Estimate your SMS Purchase
Before making your purchase you can estimate the total cost of all your SMS. You will be able to see which countries you have selected as Active and you can add others too. Just remember that these others will only be used to estimate costs. If you want to include SMS messages for them, you must first activate every new country in the previous screen.
Before you click on "Continue", you should know that the minimum amount for every transaction (adding funds) is US $ 50.00.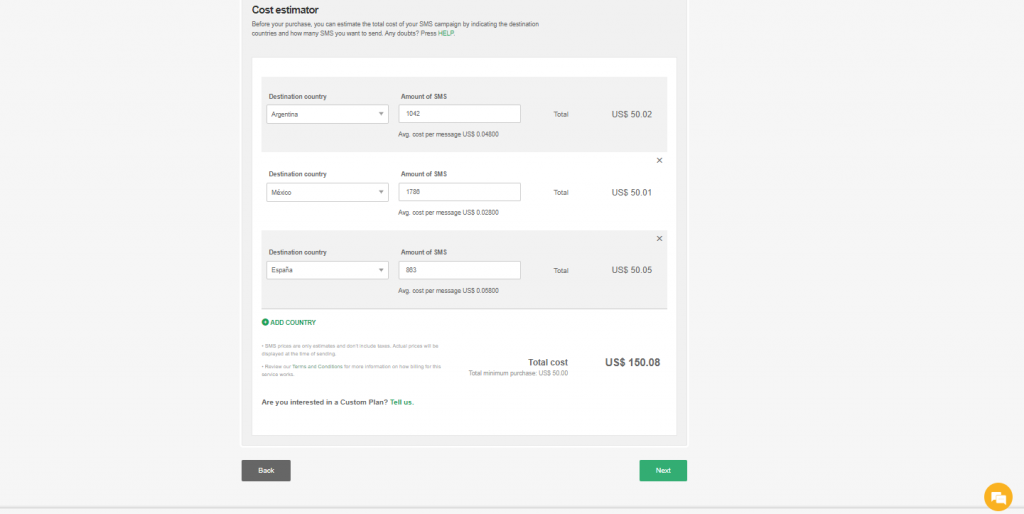 Select the Payment Method
After clicking "Continue" you will access the Payment screen. You can opt between two payment methods: Credit Card or Bank Transfer. You will be asked for information corresponding to the payment method you choose. 
Finally, click on "Buy" and you will see the funds added in your SMS Panel. Be patient if you chose Bank Transfer, as a delay in confirmation may occur.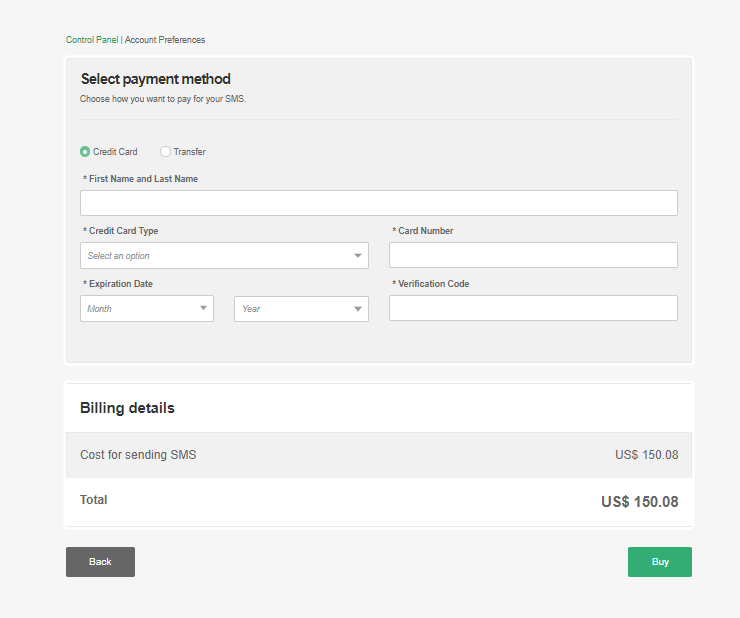 How to add your Subscribers phone numbers?
This is an important step to start sending your SMS Campaigns.
You have to add your Subscribers phone numbers to your Database. Haven't you done it yet? Don't worry, it's very simple.
You just have to create the Custom Field "phone" in your Doppler account. When creating it, assign a name to that Field so you can later select it when adding SMS to your Email Automation Campaign.
Do you have doubts about how to create a Custom Field in Doppler? Follow these steps.
Once you've done it, you're ready to set up your messages!
How to add SMS to your Automation Campaigns in Doppler?
SMS campaigns are the perfect complement to your Automation flows. When you enter the Automation section, start creating your flow the same way you always do for your Emails.

When selecting Steps to add you will have the option SMS.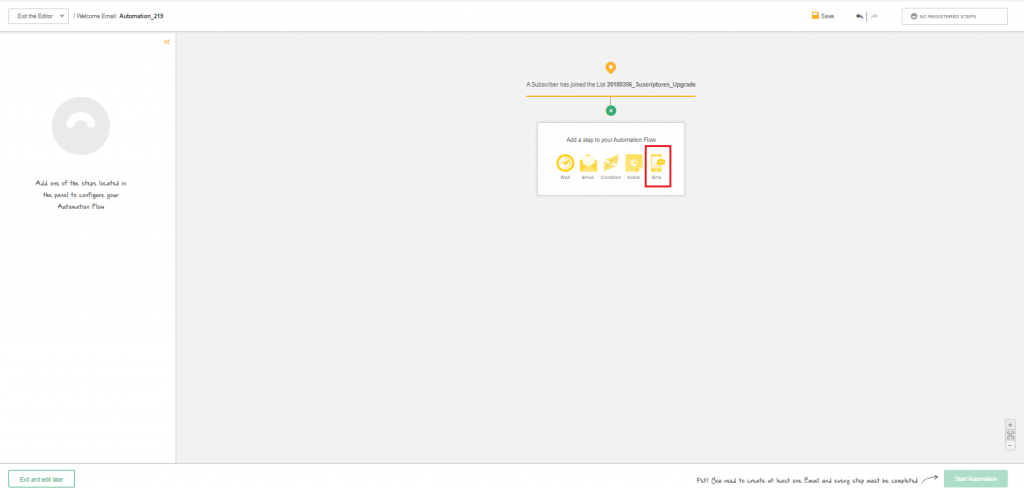 On the next screen you must define an SMS Name, select the Phone field and type the Text Message you want to send. Remember that each message can have a maximum of 160 characters.
If you add special characters, the message may be divided into more than one when sending it and this will count as more than one SMS.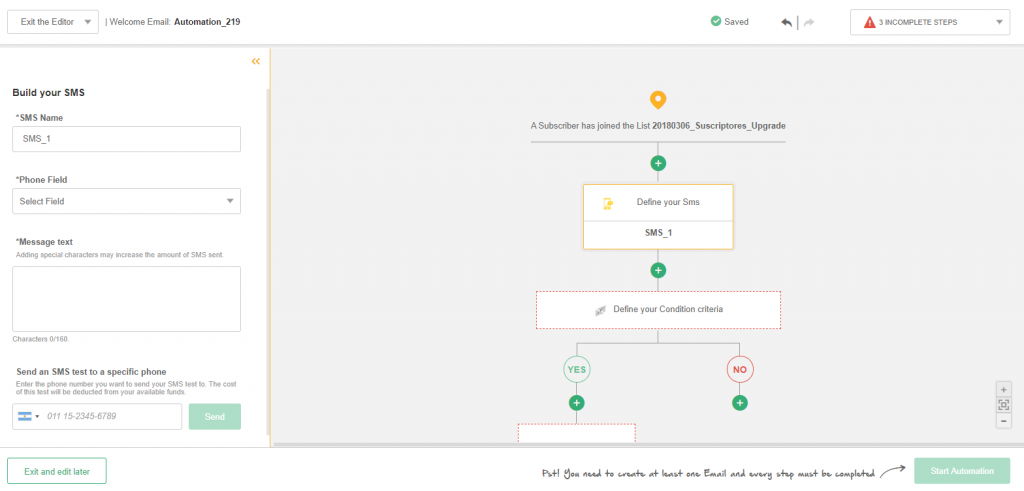 WARNING! If you add any special character, it may happen that the text message is divided into more than one when you send it. Then, it will count as more than one and will discount more available funds. 
Let's explain this: if by adding only basic characters the maximum length of your SMS is 160 characters, using just one special character will shorten that length to only 70 characters. 
You can find all the basic characters supported by the telecommunications companies here. Those that are not there, are considered special characters. The character restrictions come from the harmonization of the GSM standard to make SMS service universal.
As in your Email Automation Campaigns, you can also send a Test to the phone number you define. It is very useful to see how your Users will see it, to verify if you want to use other words, shorten it or add important information.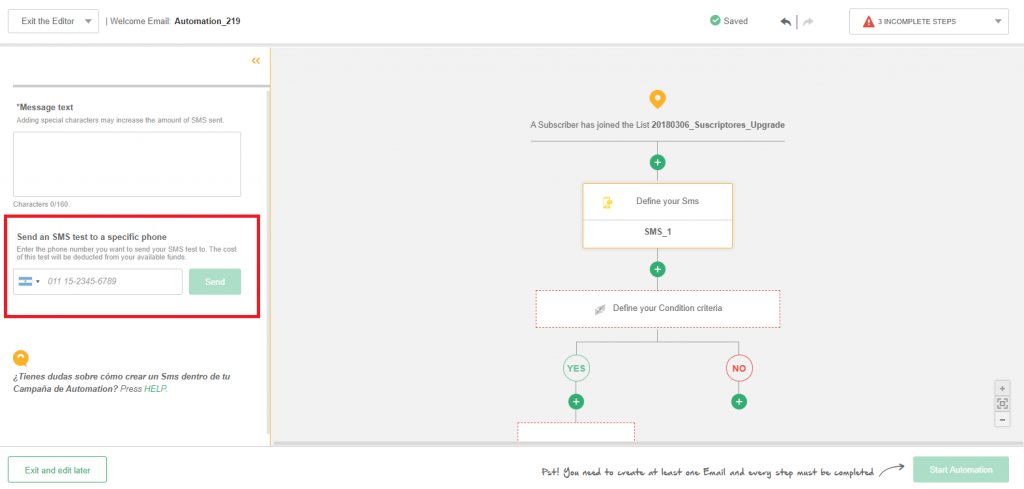 Well, now you know you can have many uses for your SMS Campaigns. Say hello, increase loyalty, gain conversions, emphasize some message you have sent through another medium and many more. Add value to your emails and use SMS to achieve your business objectives.
And if you have doubts, just leave us your questions at [email protected] and we will answer them with pleasure 🙂
Make awesome Campaigns!