What's the meaning of Subscribers waiting for Plan Update
Did you login into your Doppler account and was surprised about the following message: "You have some Subscribers waiting to be imported"? Here is everything you need to know to activate and associate them into a List in three simple steps. Go ahead!

First of all, we'll explain you what it really means: your business is working very well. Do you know why? Because your Forms are working perfectly and many people seems to be interested in your brand, therefore your lists are getting filled with new Subscribers. This is awesome!
However, if you have this notification in the header of your Doppler account, it also means that your Subscriber- Based Monthly Plan is too small and you need to change it. For example, if your current account is 1500 Subscribers max, the following contact will be stored as "Waiting for Update Plan" until you update your Plan, or because a Subscriber has been removed from your Lists.
In this case, your on-Hold Subscribers will turn into "Active non associated to List" and they will be counted as such in your Plan. If you have 10 on-Hold Subscribers and one was removed, the oldest will change its status.
If you have many on-Hold Subscribers you best choice will be to Upgrade your plan into bigger one, in order to add new Subscribers to your Lists. Don't know how? Click in the top bar of your account that gives the information about your Subscriber status. Do you have any question about which is the best Plan for your business? Send an Email with your inquiry to our Commercial Department and one member of our team will get in touch with you as soon as posible.
In case you have an Automation Campaign working, you won't be able to add any other Subscriber unless you Upgrade your plan.
Once your plan is Updated by the recent purchase, your on-Hold Subscribers will automatically be "Active- non associated to List". This will be notified by an Email you'll get from us with the updated number of subscribers availble in your account.
How associate Subscribers to Lists
Watch out! Those new Subscribers won't be in any List, so you'll have to add them in a new or previous List of your Doppler account.
Go to "Lists" and "Subscribers".
In "Filter by State" option, choose "Active- non associate to List", and in "Filter by Origin", "Data Hub". Immediately, you'll see all the Subscribers that have been "on-Hold Subscriber" before.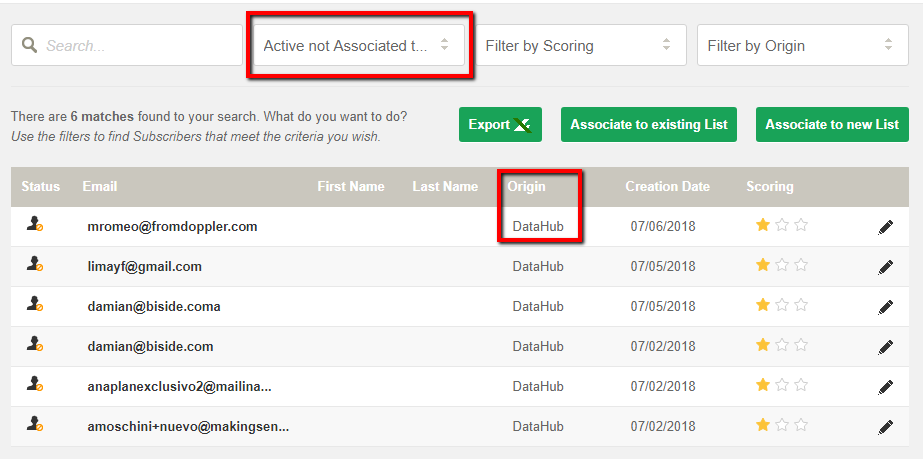 In "Filter by Origin" option, you can see where your Subscribers came from. This information will be helpful if you want to massively associate them to an existing List, or if you prefer to associate them into a new one.
If you want to add Subscribers to an existing List, you have to choose the "Associate to existing List" option and look for it.
If you prefer to make a new List, select "Associate to a new List", choose the name and press the "Associate" button.
Have a great Campaign!