How to create a Campaign Activity Automation
As you probably know, the most effective Email Marketing actions are those that are planned based on the Subscribers' behavior in relation to previous Campaigns. This is because by analyzing how users behaves, you can know what their interests are and how they interact with your Campaigns.
The main benefit of this technique is that it allows you to segment your sendings according to the information you have from your Subscribers and, therefore, increase the level of customization of your Campaigns, making them more effective.
So, for example, you can create a specific Email for those who have opened a Campaign and another for those who have not. You can also make a special sending for those who have clicked on any link in your Email and a different one for those who have not done so.
Want to know how Campaign Activity Automation works? Read this Tutorial and start using it right now!
Step by step to configure your Campaign Activity Automation
First of all you have to enter your Doppler account and click on the "Automation" section. Wait! Don't have an account yet? Sign up for free here.

Once inside the Automation section, click the "Create Automation Campaign" button.

There you will see the next screen, go to the option "Campaign Activity".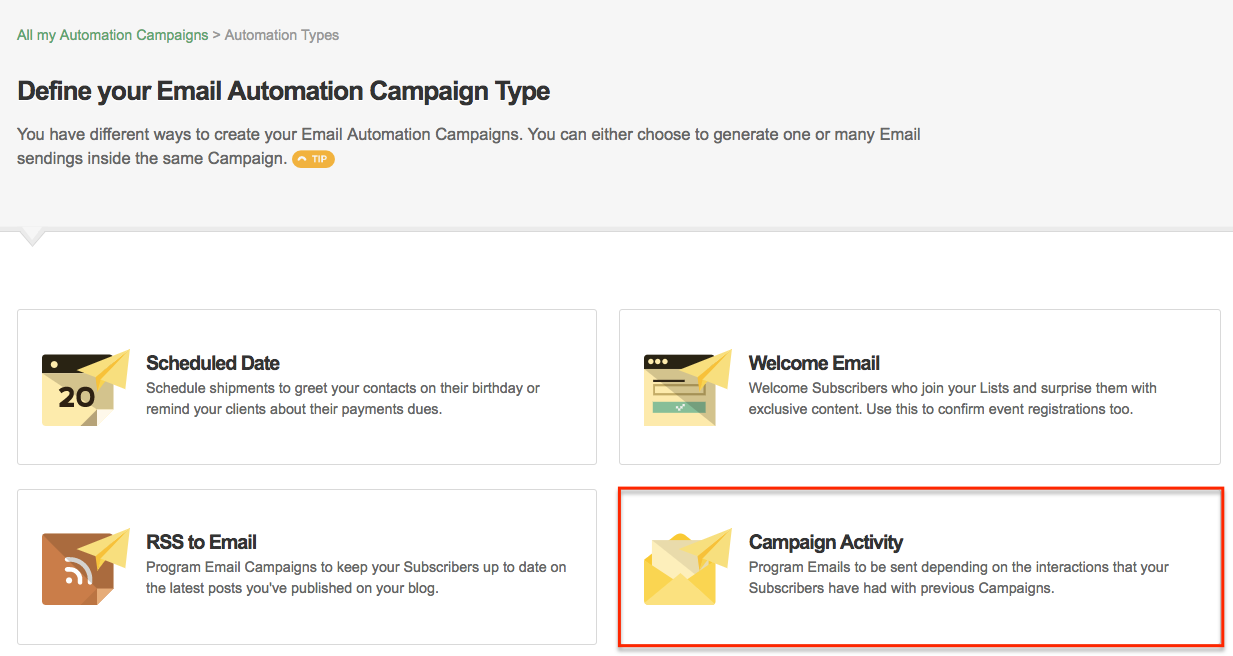 Once you enter, you have to assign a name to your Automation, in this way, you can recognize it among the other Campaigns.

Then choose the Subscribers List to which you want to affiliate your Campaign Activity Automation by clicking on the "Select List or Segment" button. In the example we have selected the "My Subscribers" List. Once that is done press the "Confirm selection" button.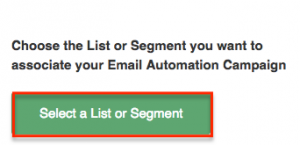 Now it's time to choose the time of the shipment, you can choose to make an "Immediate Send Out" or a "Scheduled Send Out".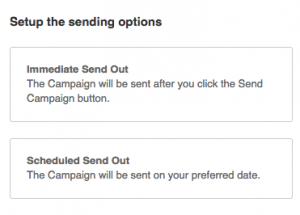 Then you will need to define the first step of your Automation Flow. To do this, click on the + icon that appears on the canvas. There you will see 4 different options:
Wait (define a period of time that you want to wait for a certain action).
Email.
Condition (we explain it bellow).
Action (different actions you can take in relation to your Subscribers).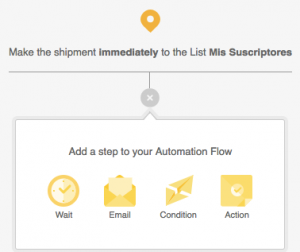 The Conditions are those elements that will allow you to perform certain actions according to the previous behavior of your Subscribers, this is depending on whether the users did a certain thing or, on the contrary, they didn't.
Let's look at an example. Let's say you've created a Campaign that includes a product catalog and you want to send them an Email with products related to those Subscribers who clicked on "TVs" only one day after that. And on the other hand, you want to send an Email with other products to those who, although they opened the Campaign, didn't click on any link because, evidently, they were not interested in any of those products. Then, the Automation Flow would be configured as shown in the image:

How to create a Condition for your Email Automation Campaign
To segment your Emails according to the behavior of your Subscribers in previous Campaigns you need to take the following steps:
1. Click the + icon and select the Condition option.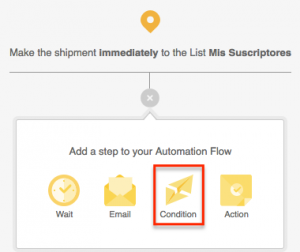 2. A panel will be displayed on the left where you can enter a name for that Condition (the one that will appear on the canvas).

3. Select the type of Condition, in this case Subscriber behavior in a Campaign.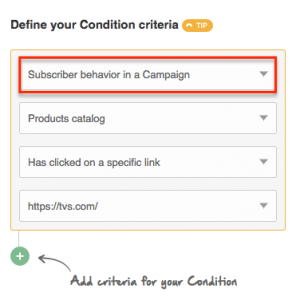 4. Choose the name of the reference Email, that is, with which the Subscribers will interact. In the example is Products catalog.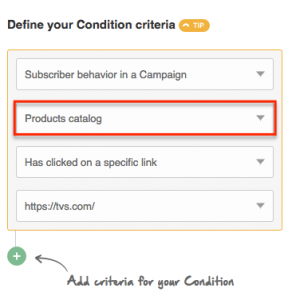 5. Define a trigger for that Condition: Has opened the Email, Has not opened the Email, Has clicked on some link, Has not clicked on any link, Has clicked on a specific link and Has not clicked on a specific link. We have chosen "Has clicked on a specific link" and we have selected which one.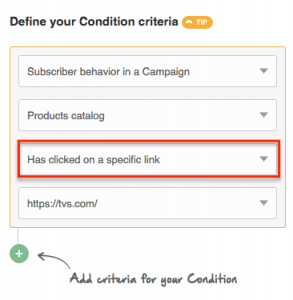 6. Add more criteria to your Condition by clicking on the + icon. When doing this you must choose between the AND options (all criteria must be met) or OR (at least one of the criteria must be met). Keep in mind that the more criteria you meet, the more targeted your sending will be.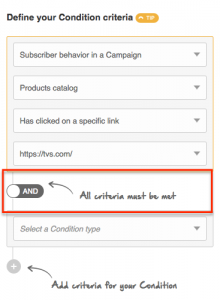 Once you have finished defining all the steps of the Flow, just click on the "Start Automation" button.
Ready! Have you see so much easy is? Try it now!
Have a great Campaign!