How to adapt Campaigns into GDPR
GDPR is the signal that names the General Regulation of Data Protection of the European Union since May 25, 2018.
This regulation covers all citizens in the European Union, companies located in that country and all the rest who are located in other countries but process the personal data of individuals in the European Union.
The objective of the RGPD is to regular use, storage and distribution of personal data of citizens and provides guarantees for possible abuse.
The objective of the RGPD is to define your legal basis for processing and storage your Subscriber's information. The consent you obtain must be freely given, specific, informed, and unambiguous. You also must clearly explain how you plan to use their personal data.
After the launch of this new regulation, 8 new rights were established:
Right to be informed: The individual must be able to inquire about the Personal Data that a company has, how they are being used and with whom they are being shared.
Right to access data: The owner must be able to see or consult their own data, as well as request a copy of them.
Right to correction or rectification of the data: It refers to the ability to request updates, attachments or modifications of your Personal Data if consider necessary.
Right to delete or "dismiss" the data: The individual can request the total elimination of his personal information from all the files of the company and from the records of third parties involved.
Right to restrict the processing of data: It is linked to the owner's power to demand that the use of the mentioned data must be suspended or suppressed temporarily or definitively.
Right to data portability: The European citizen has the power to request the transfer of their data through an "electronic format of mechanical reading" to another person in charge.
Right to object to data processing: Based on the incorporation of Direct Marketing databases, or the processing of your Personal Data by any company, the individual has the right to object those practices.
Right to not to be a subject of automated decision-making: This means that the individual could request his data to be administered by a person or group of people and not by an algorithm if he considers that this last option represents a prejudice in a specific case.
The fact of having a business allows you to be involved in GDPR, as soon as you are located in the European Union or you manage the personal information of European citizens. Is it the case of your business?
Then pay special attention to the tools available on Doppler to accomplish the law and the rights of your Contacts.
RGPD friendly Forms
Our Subscription Forms have the two "informative layers" required by law for all instruments that collect personal data.
There are first and a second layer consisting of:
First layer: Checkboxes of consent regarding the compliance of the Company's Privacy Policy, on the use and reach of this personal information and all the additional information that the sender considers relevant to clarify.

You can add as many checkboxes as you consider necessary by creating them in the Custom Fields section, as well as choosing the right order and defining which ones will be required and which will not.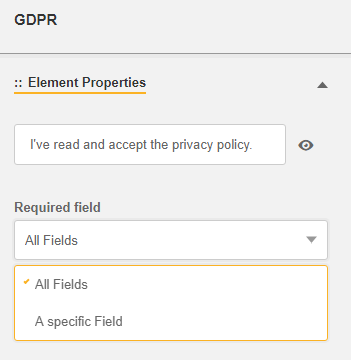 Second layer: A legal text specifying the purpose, legitimacy and recipients of the mentioned data, as well as other additional information.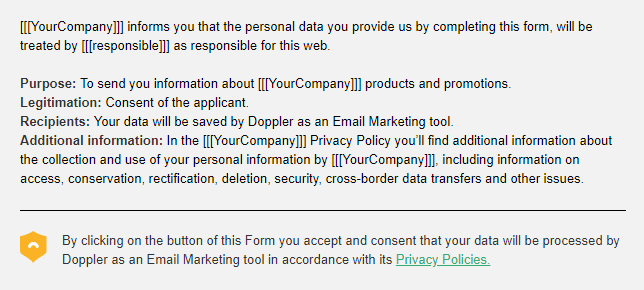 Keep in mind that this legal paragraph is editable. Therefore, where it says [[[Your Company]]] you should click to change that text by the name of your business, as well as modify what you consider. The legal paragraph is sample and is compatible with RGPD but if you would like you could modify it, running on your own the legal validity of it.

Although this information can be easily editable, in case you decide to include it in your Form you should know that the clarification that appears after the separator is not editable, since it's a legal Doppler notice to users.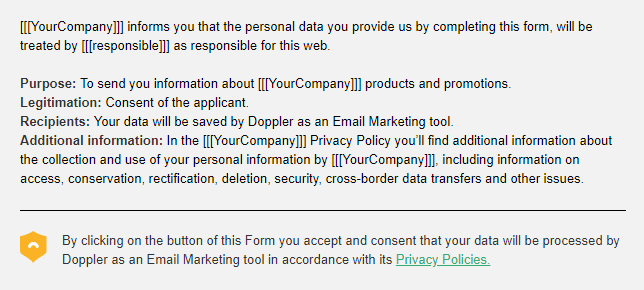 If you create your Subscription Form with Doppler you'll be able to include all this information and adjust it to the requirements of your business. In this way, you will be accomplishing the provisions of the GDPR regarding the information layers.
Unsubscription Link and "Profile Update"
In each Campaign that you send you must include a Removal Link to allow your Subscribers to be removed from your Lists at any time. This should be visible and with an unambiguous text that shows this possibility.
Remember that you can customize the text that will accompany your Removal Link, as well as define into what URL your Subscribers will be sent after they complete the removal. Find out more in this post.
Likewise, in the Header and/or Footer of your Campaigns you must activate the "Update Profile" button so that your Subscribers can edit any personal information you have about them. In this way, you will be fulfilling the right to rectification and correction of Personal Data required by the RGPD.

This option is available in the Control Panel of your Doppler account, under "Header and Footer Email".

Personalized Fields of Consent
If you want, you could create Custom Fields to store the information of your Subscribers referring to their consent on your Privacy Policy and to the use and treatment you will make of their data.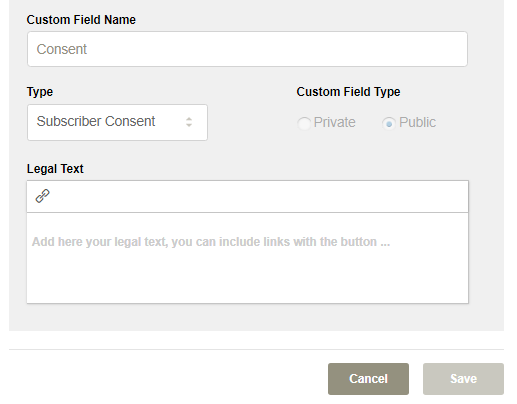 Having this information will allow you to easily segment between those who have consented to receive your communications and those who have not. Read this article if you want to use this interesting feature.
Have a great Campaign!