Make the most of the new Doppler API
Using our services is each time easier and more accessible. Did you know that with our new API you can access almost all the functions that Doppler offers, integrating it with your own tools and applications?
Now you can not only work with your Subscribers Lists, you can also manage your Campaigns, Custom Fields, see your Reports and much more!
In this post you will discover how to access it and all you can do with the new API!
Some previous observations
Before going further, you should know that using the Doppler API demands some development knowledge. So if you are not familiarized with it, you will probably need some help from a support group.
The format you will use for both INPUTS and OUTPUTS, is JSON. And the methods with which you must work are GET, PUT, POST and DELETE.
Our API is based on REST principles. This means you can use your browser to access the URLs and even use any HTTP client and programming language to interact with our Hypermedia API.
This is really good news! Don't worry if you are not understanding some concepts. Your developers will do it for you and you will see that benefits will be fantastic!
Requirements to use the API
To take advantage of all the services our API can deliver, you will need to get your API Key, which must be included in each request. It is a code with numbers and letters, and you can find it in the Control Panel of your Doppler account.
Follow this link to learn more about using the API Key to do your requests and find revailing examples!
How to access
To use our API, you must first get into the Control Panel of your Doppler account.

Then select the Doppler API option in the Advanced Preferences section and start using it!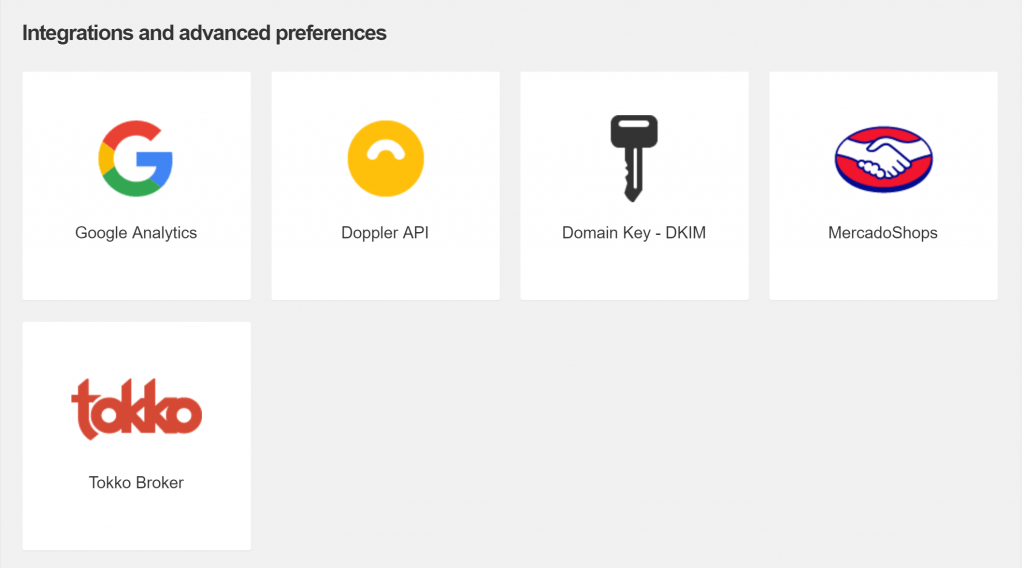 Main functions
To operate our REST API, your application must perform an HTTP request and parse the response. All these will be self-documented, as they include various metadata that client applications can take or ignore.
The functions you can take advantage of are:
– Create, edit and delete Lists and get collections of those that already exist.
– Build, edit, send, and delete Campaigns.
– Access the Summary Report of all your shipments.
– Import, edit and remove Subscribers.
– Get listings of removed contacts, Lists, Subscribers, Campaigns and Custom Fields.
Not bad, right?
How to execute orders
Using Doppler API is more than simple but if you want to see some examples of how to use the resources, you can click here and you will have no more doubts.
You can also see here a more detailed breakdown of all the functions that you can run and also execute each of them from the same place.
Just remember that everything you do through the API directly affects your Doppler account, so pay close attention to what you do.
Get all the help you need!
Don't count on a team of developers who can assist you in this task? Check out our Integrations Section to find out if we have already developed one that meets your needs. We have several integrations at your disposal!
You also count on our other tutorials and explanatory articles in the Help Center. Haven't you found there what you were looking for? Contact our Support Team and our representatives will resolve your inquires in a few minutes.
Now, think about your next Campaigns, that Doppler makes it all easier for you!