Average Campaign Sending time according to number of Contacts
If you are sending Email Marketing Campaigns with Doppler, you know that an important decision is about the Sending type. The most common is the Immediate Send Out; in that case, your Campaign will start to be delivered when you click the "Send" button.
This action triggers a technical process with some type of complexity, and it affects the Campaigns Sending time; it will be shorter or longer depending on how many Contacts you want to send the Campaign.
The main goal of this post is to inform you about the Campaign Sending time according to its size, so you'll have an approximate idea of how long it takes to complete the shipment.
Immediate Send Out, is really immediate?
When you decide it's all OK and click on the "Send" button, Doppler puts (queue) your Campaign into its MTA Servers, so your Campaign goes away from there to each recipient's Inbox.
Although this process is done quickly and automatically, you should bear in mind that the larger the Shipment, the longer it will take to complete.
At this graphic, you see how much time the Sending needs according to its size: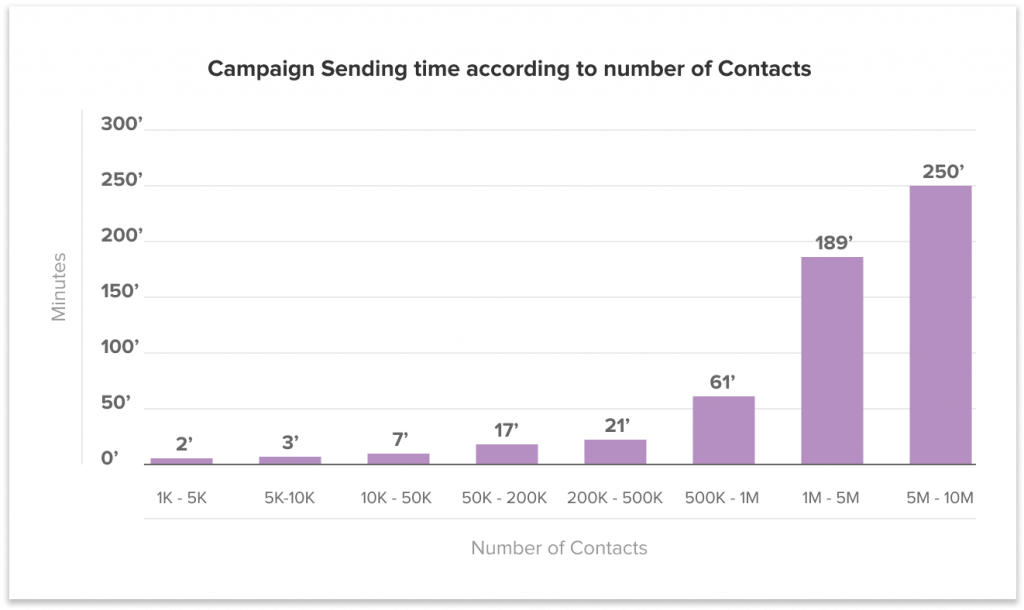 *Values calculated from the Campaign Sending time of our users,
and they are references for each range.
The Campaign Sending is completed. What's next?
After the Campaign Sending is completed, it's time to go to the Reports section! There you'll see the total of sending Emails, how many were successfully delivered, and how many were Bounced for many reasons. This is useful information to improve your actions!
Have a great Campaign 🙂