How to use discount coupons in your integration with Mercadoshops
The integration between your store in Mercado Shops and Doppler is an ally to boost your marketing strategy. If you already use this connection you will be aware of everything you can do. If you do not know what it is about, we invite you to check in this article how to configure and start using this integration.
On this occasion, we are going to tell you about the novelty that you can incorporate into what you already know: use discount coupons. What is this about? Basically you will be able to create more direct promotions and make your publications much more attractive. In order to attract potential buyers, retain those who are already your customers and reinforce your brand presence.
Why use these discount coupons?
This tool will help you to strengthen not only your marketing strategy but also some specific action that you need to promote for a seasonal date. It is important to clarify that you must have the integration between both tools previously.
This action will allow you to easily incorporate the discount coupon element from the Campaign editor. From there you will see, in the element's properties panel, those promotions that are active from your profile in Mercado Shops.
Likewise, another of the advantages is that, once you insert the discount code in your email, you will have the possibility of making changes to the styles in the typography, colors, sizes, etc.
How to create your discount coupon in Mercado Shops
You will be able to start enjoying this benefit in a few steps:
First, log in to your Mercado Shops account. Then, you are going to go to the promotions center and choose the option: Create discounts and oupons. It is important that you previously have the integration already done to carry out this action. You can find out how to do this integration in this Help article.
Select Discount coupon and complete with all the information of the promotion.
And done! When you finish, you will have created your coupon.
How to include your coupons in your Doppler Campaigns
1- Once you have the integration active, a new element called Promo Code will be visible. This will be visible in the Campaign Editor, either in the templates, campaign creation or automations section. You can easily include it, even incorporate more than one by email.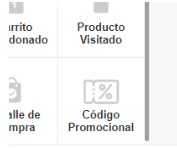 2- You will be able to view your coupons, and easily edit them by dragging and dropping the elements. The element will be generated with a default text that will be replaced by the one you choose:

Important: This element, being of the text type, can be edited manually as if necessary. The specific objective of the functionality is to present the active coupons in the store without having to go to the store to copy it.
3 -Within the properties of the element, you can choose a coupon previously generated in the MercadoShops store: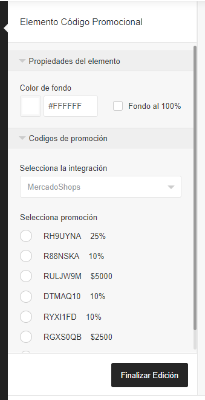 If you do not have coupons, it will be displayed as follows: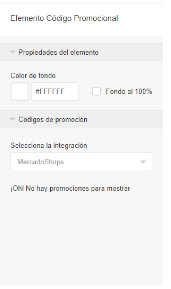 4 – And done! When you finish, you will have created your coupon.
Some extra recommendations:
Choose the code you want your buyers to use. For example: Merry Christmas25.
Indicates the type of discount, either in a fixed amount or in percentage. For example: 25% or $2,500.
Set the coupon usage frequency. For example: if there is a use limit or if the same buyer can redeem it 2 times or whatever you consider.
Defines the date that the action will last. For example: if it is to add to a seasonal date, you can select the expiration.
How to evaluate the performance of your coupons
Once you have created your first coupons, from your Mercado Shops account, you will also be able to review which ones have the best results or evaluate how to improve in your next actions. You can see this from the promotions center and then select download coupons where you can choose the range of dates.
You can check this information from the download of the database of buyers of your store.
You already learned how to implement discount coupons in your Mercado Shops store, now it's time for you to explore all the benefits of this integration and use them in your email marketing campaigns to boost your business.
To get going. Many successes! 🙂
You have doubts? You can contact our customer service team by WhatsApp. We are here to help you.