How to use Doppler's Email Templates
We've created Christmas Templates so you can easily send to your Subscribers your holiday wishes, gifts or discounts. Using them is really easy, you just have to follow this few steps:
1. Log in to the app and hit the 'Create Campaign' button:

2. Choose the campaign type you'd like to send. In this case, we'll choose a Classic Campaign.

3. Fill in the fields with your campaign information as shown on the picture bellow and click 'Next'.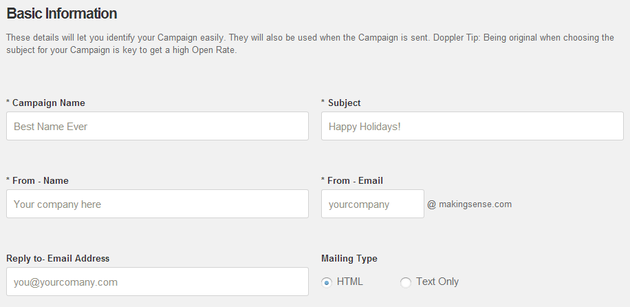 4. Now it's time to create the content of the Campaign! As in this case you want to use a predesigned template, you must click on "Select a Template".

5. As you see, to the left of the application, you have a column with all available options for you to choose the Template you want and customize.
6. For example, if you click on "Special Dates" you will be able to choose between different formats designed for you to make your Christmas Campaign. Select the piece that best suits with the Seasonal Campaign you want to send and save it.
There you go! Remember that you'll be able to insert your logo, change the button's colours and even change the content we've written for you. If you don't know how to do it, don't miss this post!
Have a great Campaign!