How to Enable DomainKeys/DKIM
Do you know what is the DomainKeys/DKIM? Doppler will explain their functionality and allows you to activate to reduce the probabilities that your Emails will be considered as Spam.
What is DomainKeys?
DomainKeys/DKIM is an email authentication system that improves your messages' security by reducing spam and phishing.
Doppler allows you to enable DomainKeys/DKIM so you can lower the chances for your Emails to be considered Spam.
How can you request DomainKeys and enable it?
To do this you must complete 3 simple steps. Of course, be sure to finish each one because otherwise, it will not be properly activated.
Step 1: Complete the requested information
First, go to Control Panel (located on the right-top corner of the navigation bar).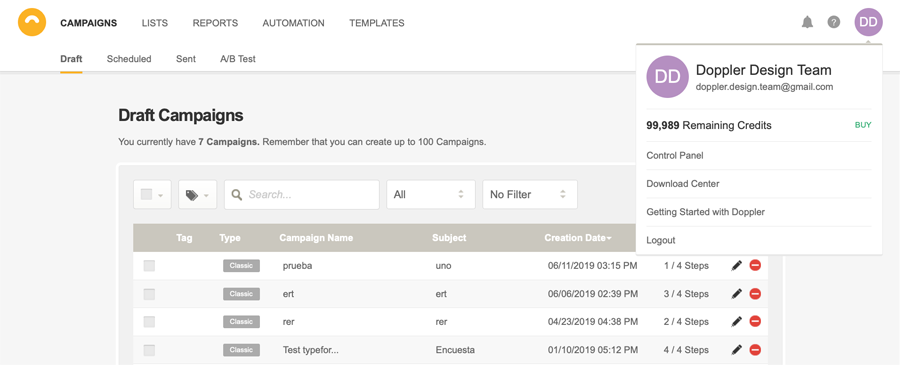 Scrolling down, you'll find Advanced Preferences. Click on DomainKeys/DKIM.

Now fill in the information required as illustrated below and hit request.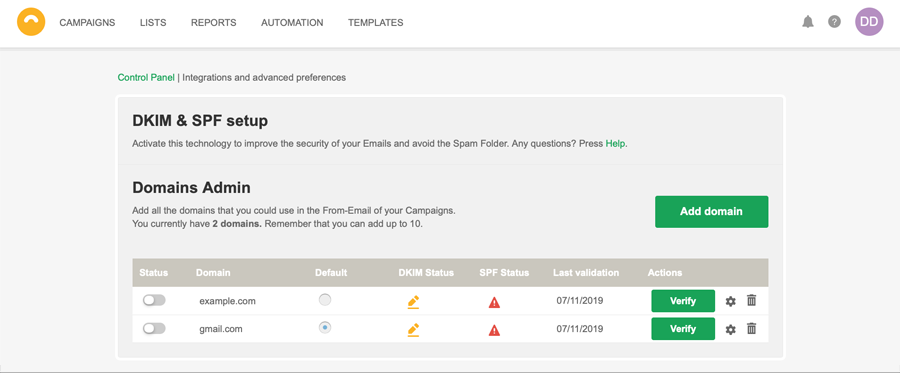 A message will appear letting you know we are going to contact you soon to confirm your DomainKeys/DKIM availability.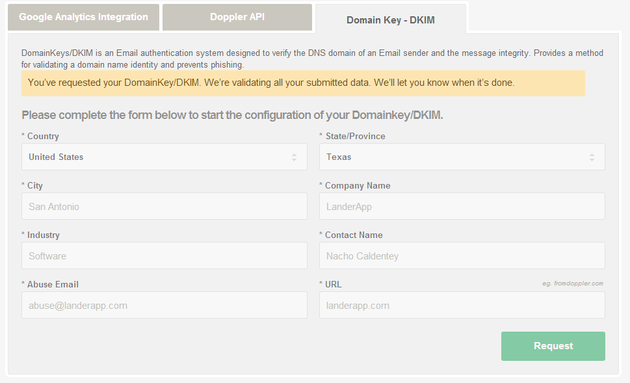 Step 2: Await our confirmation
In this instance, all you have to do is watch out for your Email Inbox. At any moment you will receive an Email from Doppler, informing you that we have already done our job regarding the activation.
Step 3: Activate your domain in the DNS
Once your DomainKeys activation has been confirmed, go back to the DomainKeys/DKIM section in Control Panel to continue the settings. You can enable or disable it any time, as shown in the image below.

The first record authenticates the domain to send DomainKeys/DKIM-signed messages. If an Email is signed with an illegitimate signature, a notification to the 'abuse' account will be sent (for example, abuse@yourdomain.com)

The second record will be used by all clients to verify the Email they received. It's very important to use doppler._domainkey.yourdomain.com as the record's name. This name will be sent in every Email coming from Doppler and indicates the servers where to find the public key to verify its authenticity.

Press Click here to view complete value of your public key and update the DNS register for the domain (o request it to your web admin).
If you do it yourself, sign in to the admin that was given to you by your domain provider. Look for the page from which you can modify the DNS records.
Create a TXT record with the name and value from the Admin.
Different domain registrars use different names for the fields associated with a TXT record. For example, GoDaddy has fields named TXT Name and TXT Value, while Name.com calls the same fields Record Host and Record Answer.
Regardless of which provider you use, enter the text under DNS Host name (TXT record name) into the first field and the text under TXT record value into the second field.
Then, go back to Doppler and click on the Save button to save changes.
That's all; remember that it is essential to complete the 3 steps so that the DomainKeys/DKIM is properly activated. So it might be of your interest to check once more if you have complied every step.
Haven't used Doppler yet? Create your account for free and start enjoying the benefits of Email Marketing.
Apply what you've learned!

Create a free account in Doppler and boost your business strategy with Email, Automation & Data Marketing. No monthly sends limits!

SIGN UP FREE

No contracts

or credit cards needed