How to limit the maximum number of shipments to the same Contact
Sending your contacts the news and promotions of your brand through Email Marketing Campaigns is excellent, however, it's essential that you do it without saturating your Database with an excessive number of Emails that can result in a high number of Unsubscribe recipients.

In order to simplify your work and increase the effectiveness of your shipments, we have launch this functionality that will allow you to limit the number of Emails received by each of your Contacts without having to personally deal with it.

Do you want to know how it works and how to activate this option? Keep reading!
IMPORTANT: This functionality will be available since November 2021 for all Doppler Plans.
Enter your Doppler account. Wait! Don't have one yet? Sign up for free up to 500 Contacts.
Once logged in, you will need to access the "Control Panel".

Go to the "Campaign Preferences" section. Then click on the "Contact Policy" option.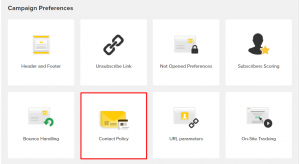 There you will see this screen. To activate the functionality, you must click the button that's near the legend: "Set maximum number of Emails".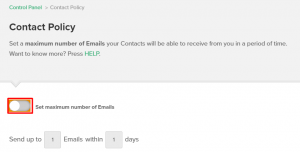 The next step is to define the maximum number of Emails that you want each Contact to receive for a certain period of time. To do this, write in the first field the number of Emails taking into account that it must be a value between 1 and 999. You can also set up to 30 days.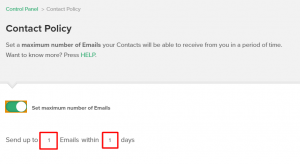 Once these values ​​are defined, click "Save".

Ready! Did you see how simple it was? You no longer have to worry about saturating your Database and you can focus on optimizing your Email Campaigns.
If you want, you can exclude up to 10 Lists from the Contact Policy. This means that Contacts from those Lists will receive all the Campaigns you send, in case you choose one to be part of the sending. Into the same screen, click "Select Lists" and choose them.

As you select Lists to exclude them from the Contact Policy, they will be listed on the screen. You can delete any of them if you want to replace it from another List, or if you prefer that Contact Policy affects also that List.

If you select Lists to be excluded of the Contact Policy, don't forget to save the changes.
Ignore Contact Policy for a specific Campaign
1. At the time you choose the Sending Type, no matter which option you select (Immediate, Scheduled or Smart Send Out), you can exclude the Campaign from the Contact Policy. You only have to click "Yes" on the radio button. 

IMPORTANT: You can ignore the Contact Policy for a specific Classic Campaign. It is also available for Automatized Campaigns.
Have a great Campaign!