How to integrate Doppler with Facebook Lead Ads using Zapier
Do you use Facebook Lead Ads to get new contacts for your Database? Excellent! Because now you can automatically import them into your Doppler Subscribers Lists and send them Email Marketing Campaigns with personalized content. Find out all about this new integration!
Zapier is a tool that allows you to connect different applications existing in the online world to automate tasks and save a lot of time, without having to depend on a programmer. You can sync with more than 800 apps to create your own integrations quickly and easily.
Here we will show you step by step how to integrate Doppler with Facebook Lead Ads, but before we will explain some concepts that you need to know. Please check this article before start using the integration.
Step by step to integrate Doppler and Facebook Lead Ads through Zapier
1. Sign up for Zapier. You have at your disposal a free version that allows you to use 5 Zaps of up to 2 steps (a Trigger and 2 Actions). If you want to use more Zaps, access to Premium applications, multi-step Zaps and autoresponder tasks, you will need to have a paid plan.
2. Once you have signed up for Zapier you will be able to create this specific Zap. To do that, click on "Use this Zap" button which appears in the box below.
3. You will see this screen. Please, click "Use this Zap".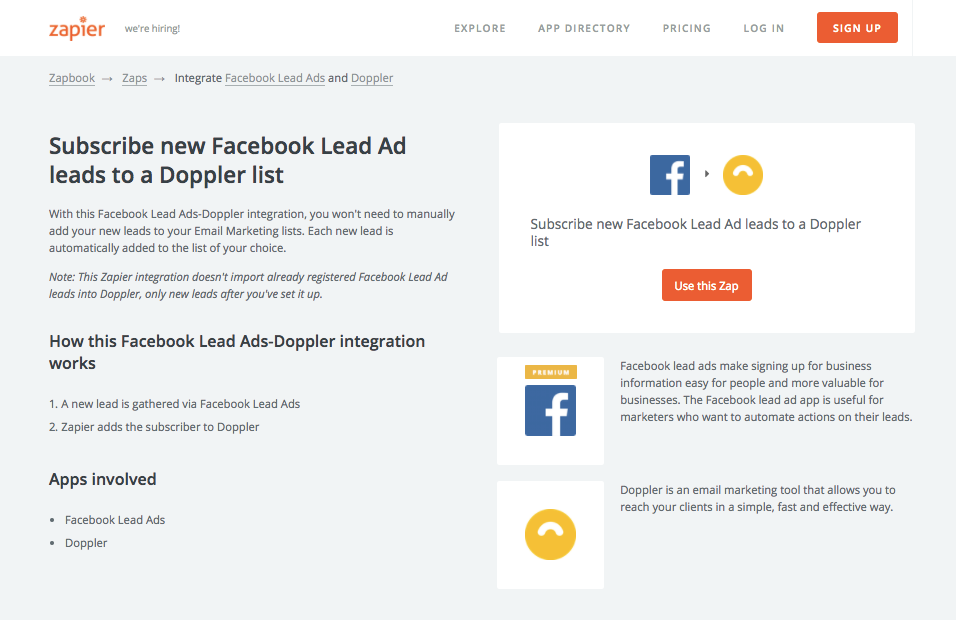 4. Zapier will ask you to login to your account.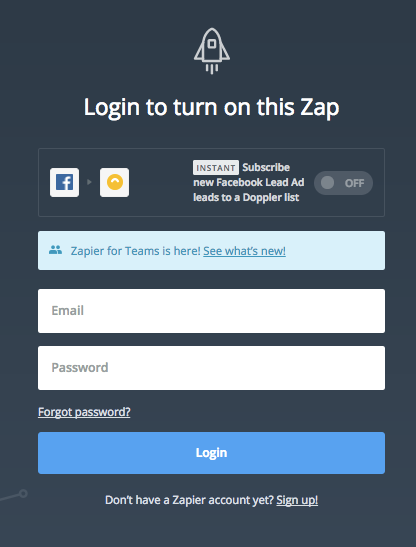 4. Click "Save + Continue".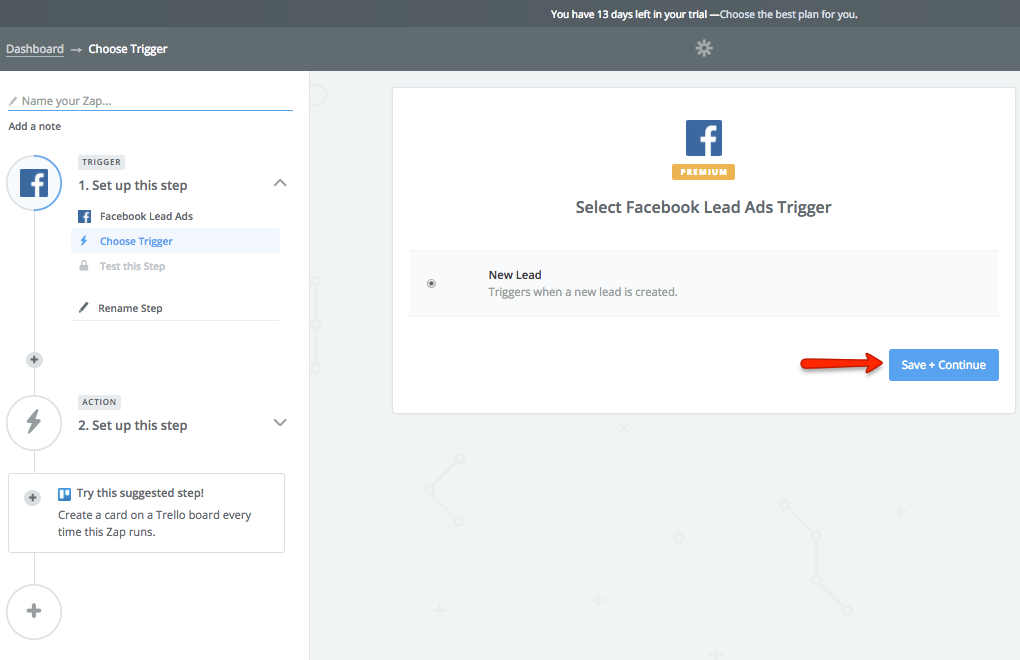 5. Go to the "Connect a new account" option to sync with your Facebook account.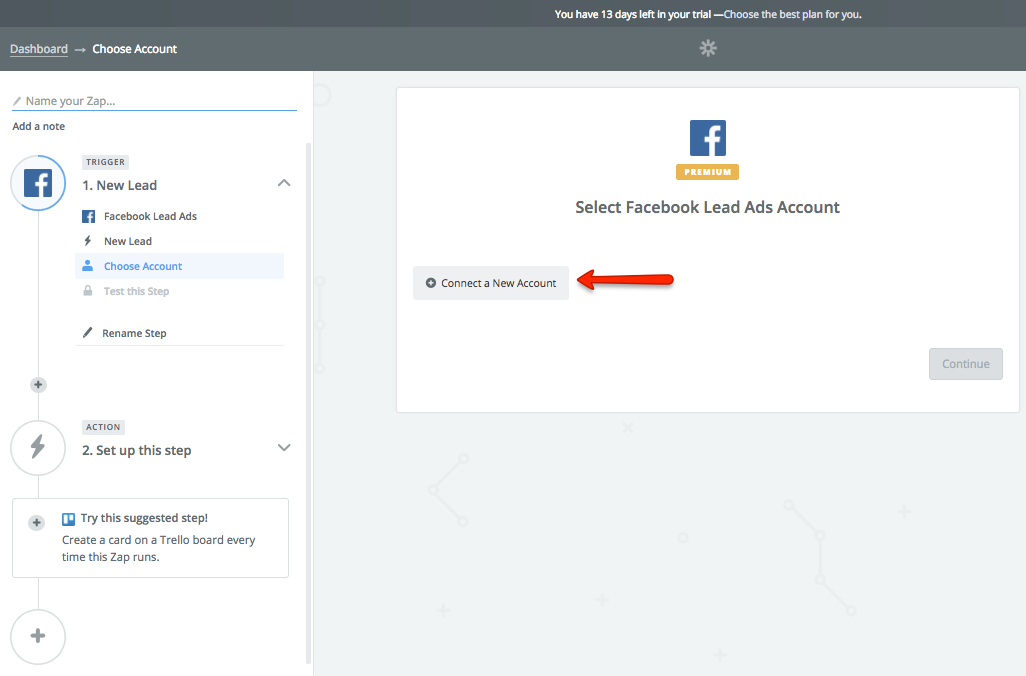 6. Log in to Facebook if you have not done it yet.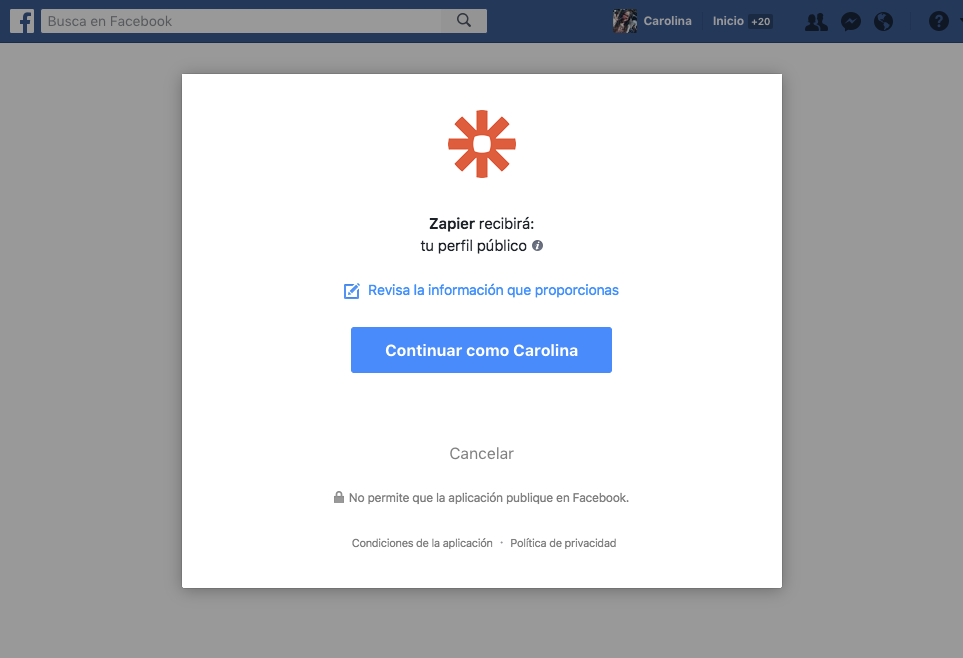 7. Zapier will select your Facebook account. Then click "Save + Continue".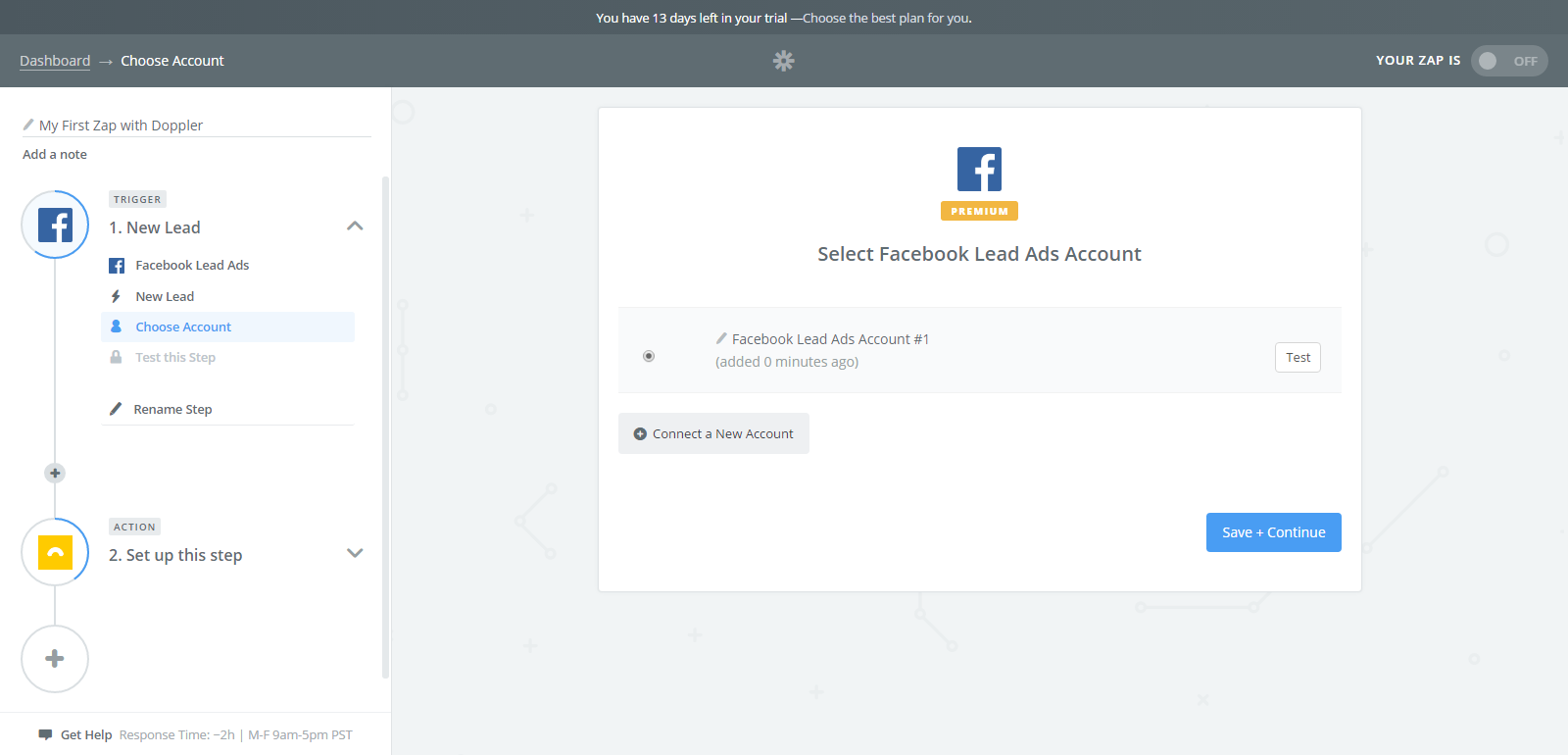 8. Select the Facebook page from which you have made the ad (this must be previously created, here you can see how to do it) and the Form in which users will register. Then click "Continue".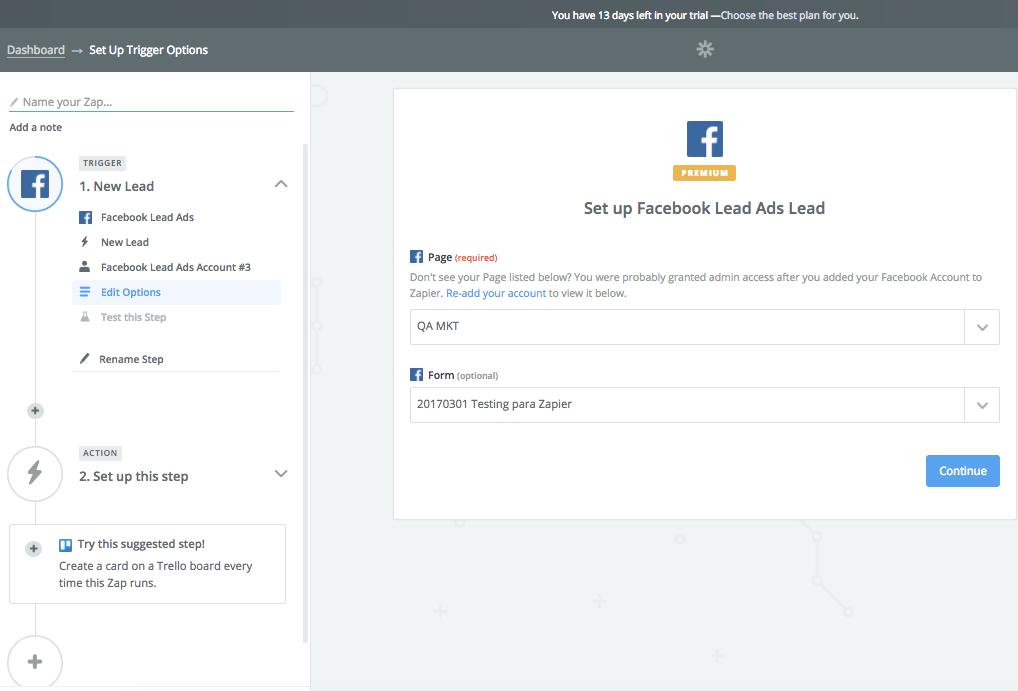 9. Click on "Connect & Continue" and perform the test. Please note that in order to carry out the test you must have a contact entered in the ad Form.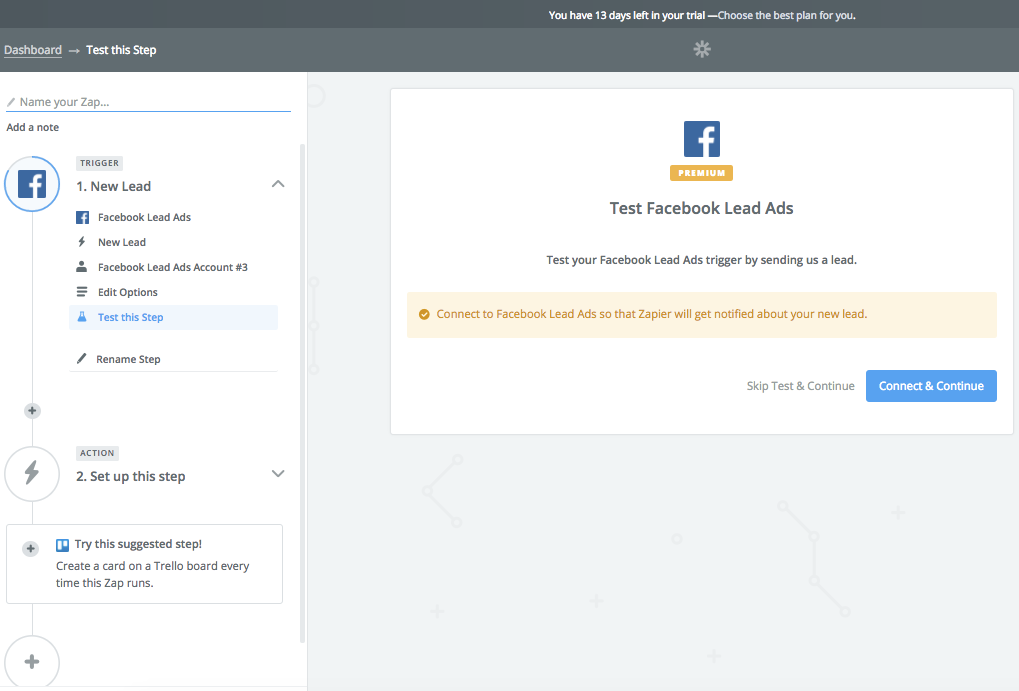 10. Zapier will show you the test result. Then press the "Continue" button.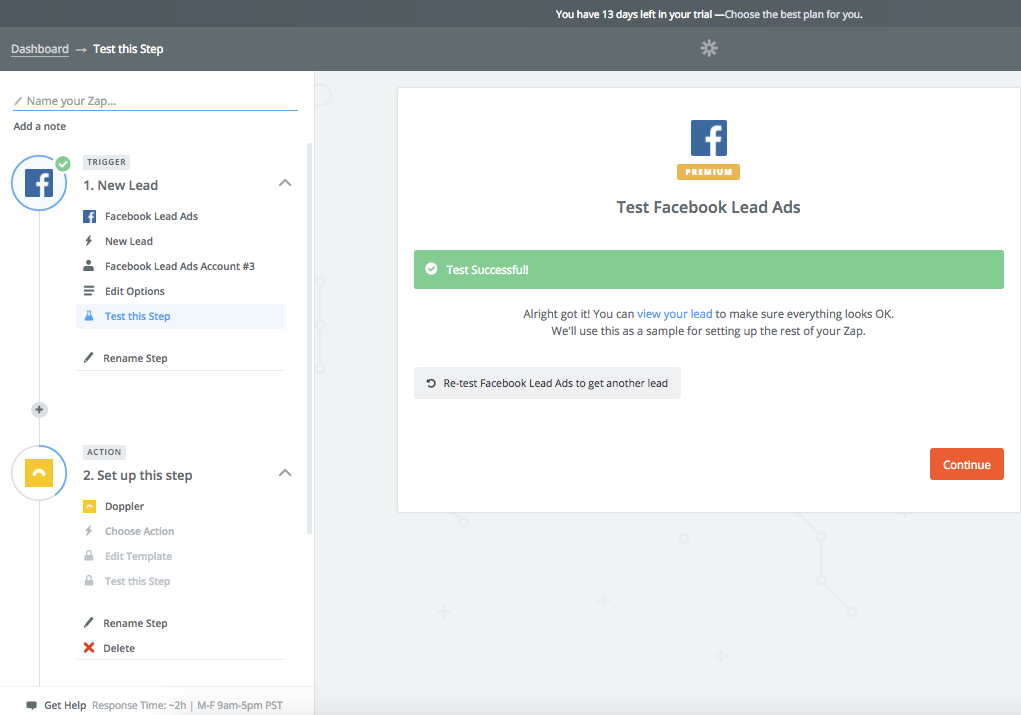 11. Choose "Doppler" as an application for Action. To do this, position yourself in the search and type the word Doppler. The option will appear so that you can select it.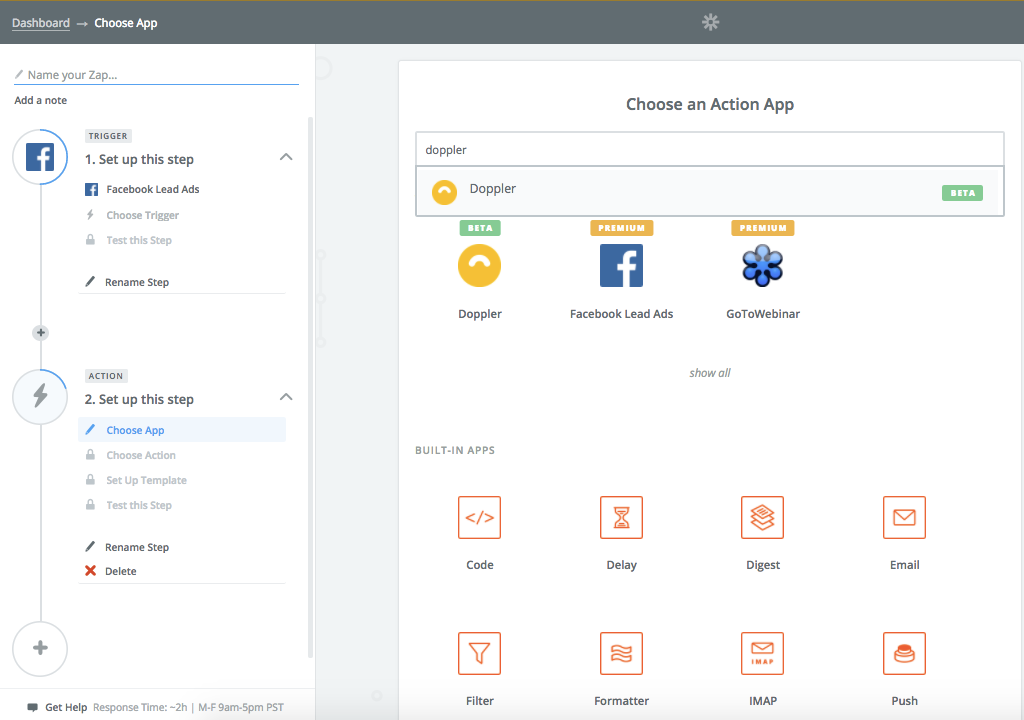 12. Select the Action "Add/Update Subscriber" and then click "Save + Continue".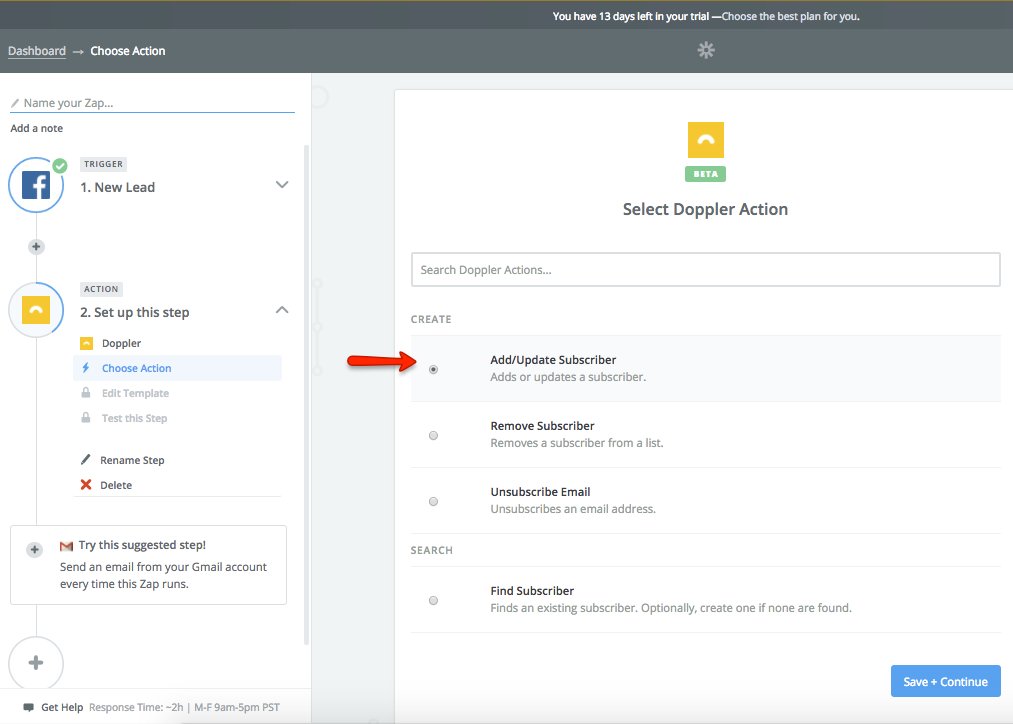 13. Go to the "Connect a New Account" option to sync with your Doppler account. Don't have one yet? Sign up for free.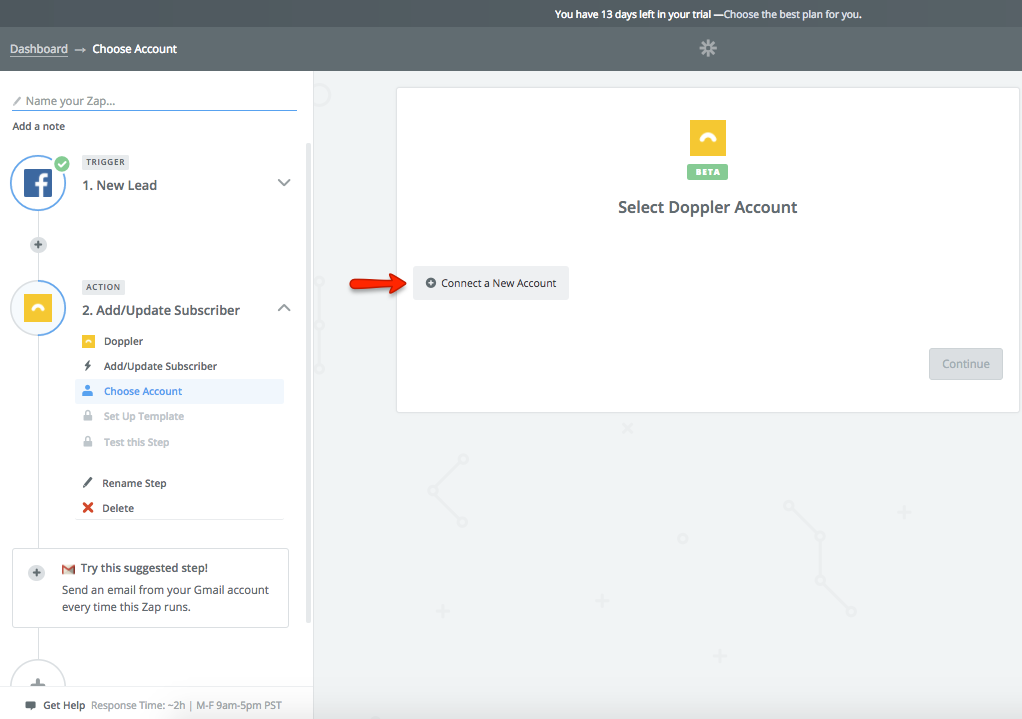 14. Enter your user and Doppler API Key and click "Yes, Continue".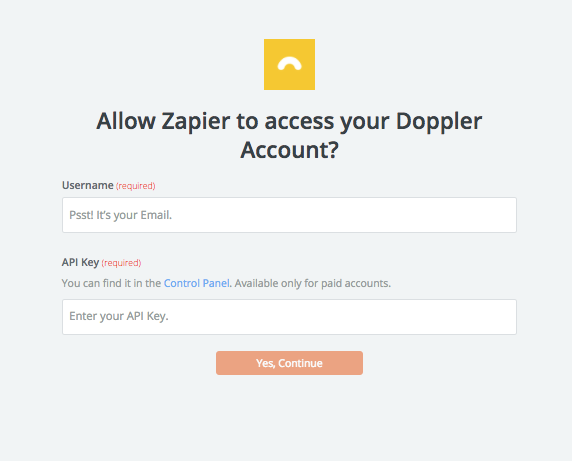 15. Zapier will select your Doppler account. Then just click on "Save + Continue".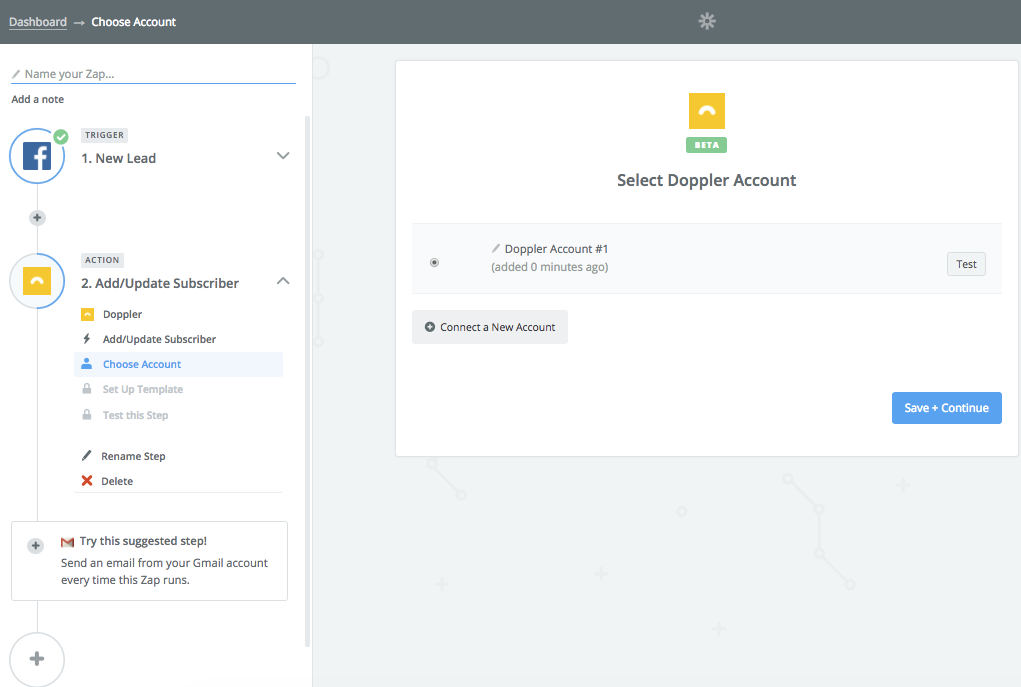 16. Select the Doppler List that you want to send to the Subscribers and complete the fields in the ad. You have not created your List yet? Find out how to do it here. Then click "Continue".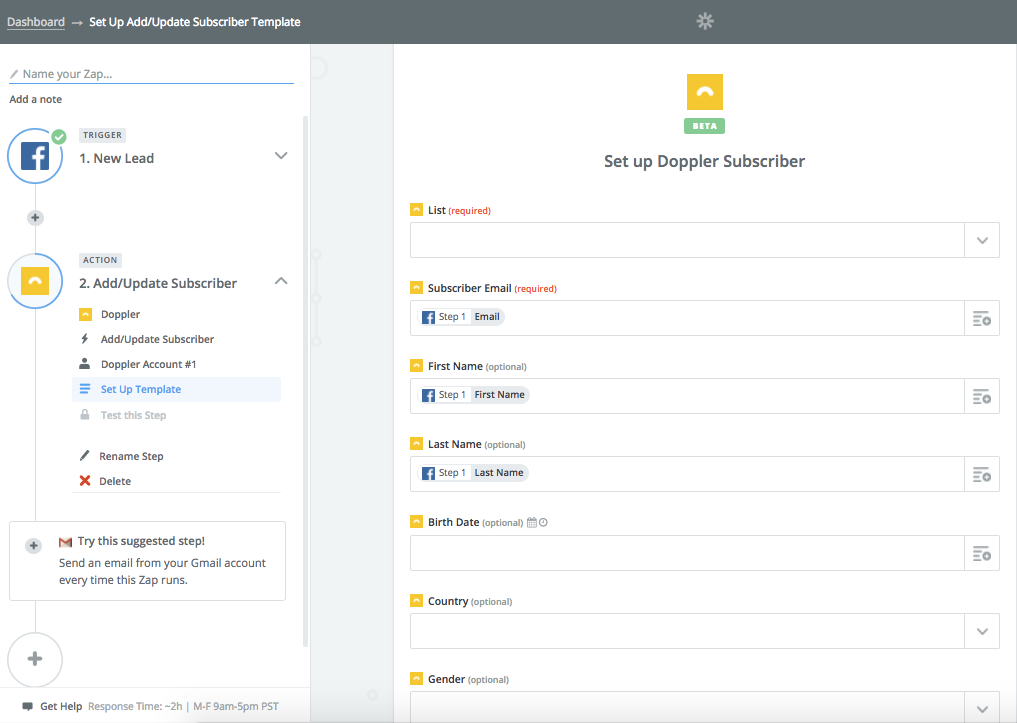 17. Zapier will ask you to create a Subscriber and test the integration. Once done, click on "Create & Continue".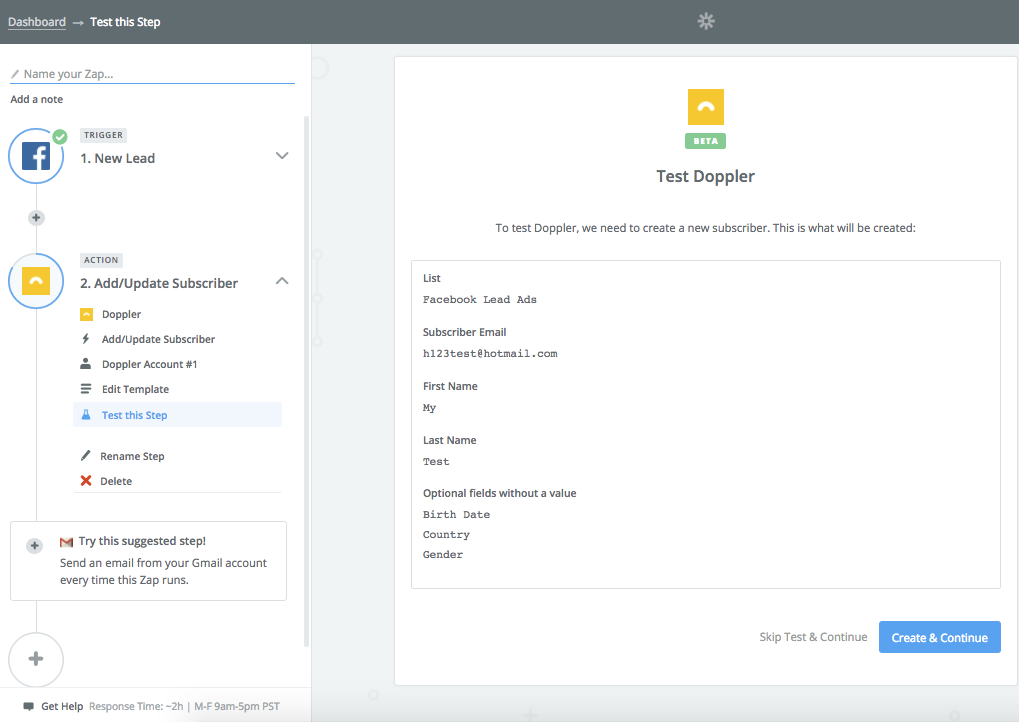 18. Wait for the test to complete and then press the "Finish" button.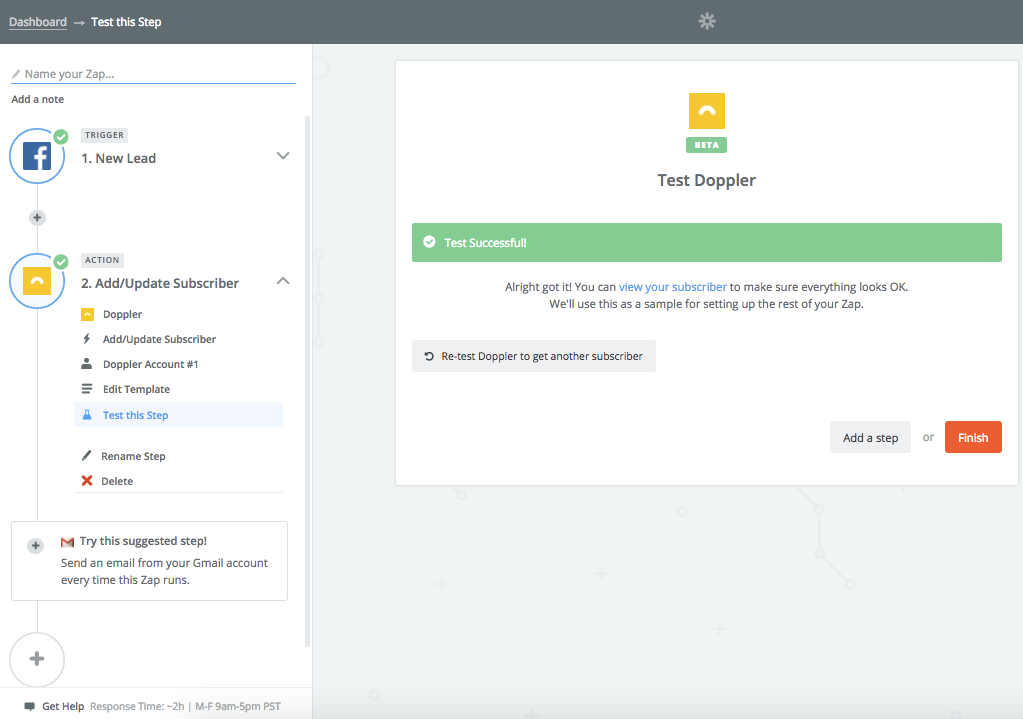 19. Almost! Now you have to click on the switch that says "OFF" and change it to "ON" to activate the integration.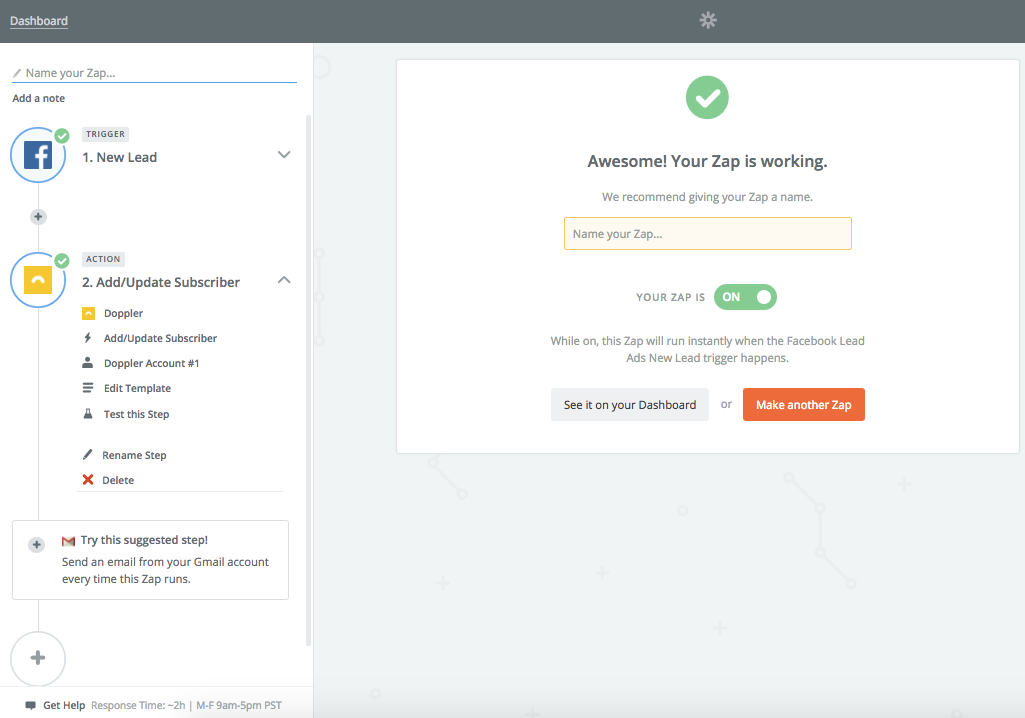 20. Where "Name your Zap" appears, enter a name that be descriptive so that you can identify it easily. For example "Generation Argentina's Subscribers".
21. To see the Zap you have created, press "See it on your Dashboard".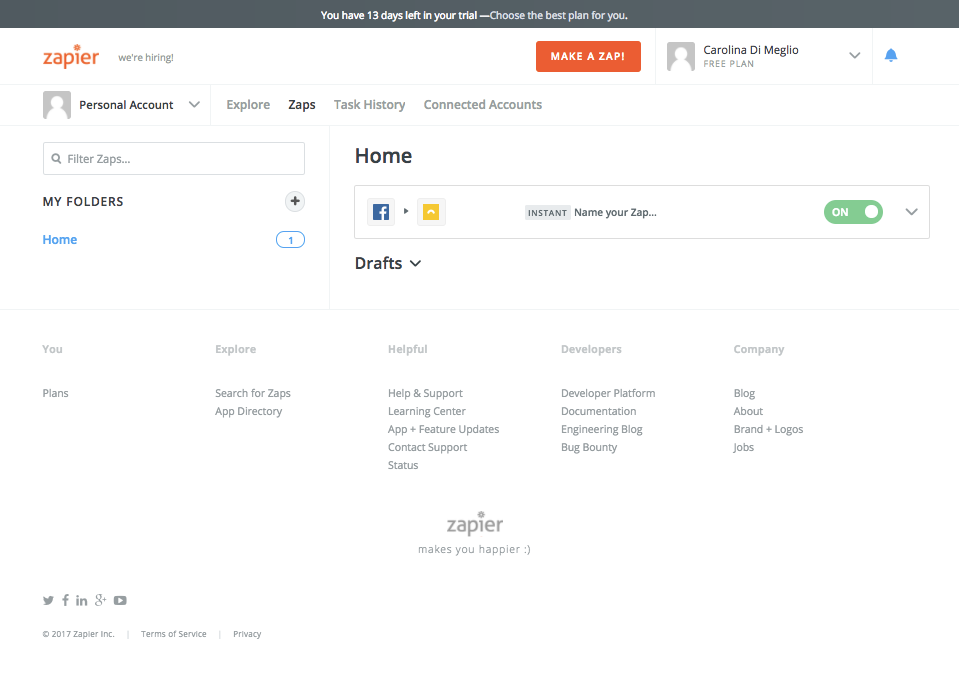 Now that you know how to integrate both apps using Zapier, do you want to create a new Zap? Just click on "Make a Zap!" and start connecting your favorite applications with Doppler 🙂
For any questions that appear during the process, you just have to write us to [email protected] and our Support and Customer Service team will assist you.