Doppler – Zapier: How to integrate with more than 800 apps
Zapier is a tool that allows you to connect the applications you use every day to automate tasks and save time. You can sync with more than 800 apps to create your own integrations quickly and easily, without programming or relying on developers.
So that you can optimize your work and time, from Doppler we have developed the integration with Zapier in order to allow you to synchronize your account with hundreds of other incredibly useful tools, among them Facebook Lead Ads and Unbounce to name a few.
In order to work on this platform you need to know some concepts of it. We describe them in detail below:
Zap
This is an automated workflow between two apps. For example, you can create a Zap that adds a lead from a Facebook ad as a Subscriber to a Doppler List. If you wanted the contacts to feed another List besides that, you would need a new Zap.
A Zap is made up of two parts: a Trigger and one or more Actions. A Trigger in one app causes a specific Action in another.
It's important to know that Zaps only synchronize new items, don't import/export data prior to the creation of the Zap.
In the image below you can see an example of Zap that aims to send the contacts who have registered in the Facebook Lead Ad (which we have created so that users can download our pre-sent Email Campaign Checklist for free) to a Subscribers List in Doppler.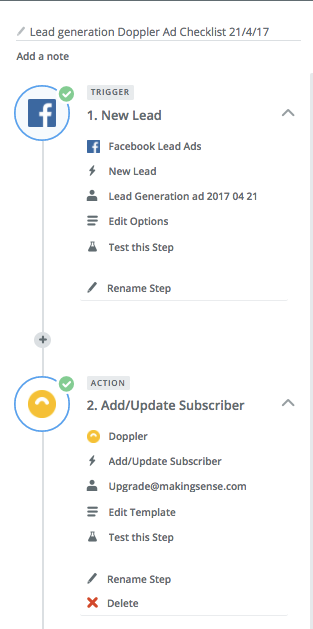 Trigger
It's an event in an app that starts a Zap. Once a Zap is configured, Zapier will start monitoring the application for that event.
In the example that you can see below, we have chosen as Trigger the capture of the lead through the Form that offers Facebook Lead Ads. This is what initiates the Zap and that will trigger the Action (to feed the Doppler's Subscribers List).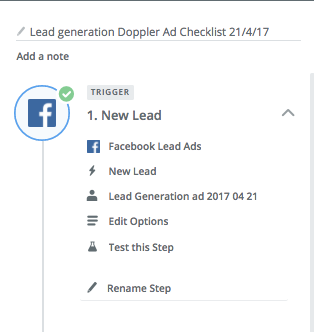 Action
It's the event that completes the Zap. Following the example of connecting Doppler with Facebook Lead Ads, the action in this case is to add the Subscriber to a specific List in your account, as you can see in the example.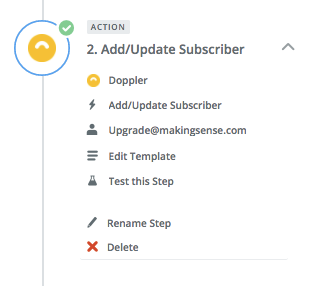 1- Integrate Doppler with Unbounce
When capturing Subscribers for your Database nothing better than using Landing Pages. Now, you will be able to send all the contacts that are registered in your Unbounce Landing Pages to Doppler Lists to turn them into customers sending them Email Marketing Campaigns. Learn more about this integration.

2- Integrate Doppler with Facebook Lead Ads
Create a lead generation ad and send all contacts registered directly to a Doppler Subscriber List. You can associate this List with a Signup-based Email Automation Campaign so that they automatically receive a personalized Email when you set it. Learn more about this integration.

3- Integrate Doppler with Salesforce
With this integration you can automatically import all your Salesforce contacts and customers into your Doppler account. In this way you will can send them Email Campaigns targeted to different goals according to the stage in the purchasing cycle in which they are located.

4- Integrate Doppler with GoToWebinar
Do you organize events online? Then you will greatly enjoy this integration. Thanks to it, you will be able to get users who register for your GoToWebinar seminars also imported into a Doppler Subscriber List. In this way, it will be very easy to send Email Campaigns thanking them for their attendance or sending them the content about the event that has been lost.

5- Integrate Doppler with Shopify
Do you use this eCommerce platform? Excellent! Because now you can automatically send all your contacts and customers in Shopify to Doppler Subscriber Lists. In this way, you can reach them through fully personalized Email Marketing Campaigns. Transforming prospects into customers will be easy with this integration!

Now that you know the main concepts, you're ready to start using the integrations that Zapier offers you. You have hundreds of options with which you can synchronize your Doppler account!