How to set up abandoned cart functionality with Jumpseller
Did you know that now from your Doppler account you can configure abandoned carts in Jumpseller and prevent your users from losing their purchases? Integrate both platforms, synchronize your products and boost your E-commerce sales.
Let's see how to do it in this article 🙂
Abandoned cart configuration
First of all, make sure that:
To begin this process, you will need to start this configuration from the "Settings" section in your Jumpseller store. You must go to the "Preferences" option (as you can see in the image below)
There you will find the different options for the times in which to program and consider when a user browses your store and abandons their purchase.

There are 3 types of configuration that you can configure, depending on the type of order:
Instant payment orders: These are orders that are paid in a way that directly impacts the store (Cards, PayPal, etc.). These orders can be set from 1′ to 5 days.
That is, an order that selected this payment method but its collection does not impact jumpseller will be considered abandoned at that chosen time.
Manual payment orders: These are those that are paid according to an agreement with the store (transfer, payment on delivery, etc.). In this case the range is from 4 hours to 30 days.
Like the previous one, if this payment method was selected but the store does not indicate that the order is paid manually, the cart will be created.
Order without payment: These are orders that reach the last step of checkout but do not configure any payment method. The range is from 1 day to 90 days.
Step by step of the abandoned cart process
The user completes the contact information where you can see the order summary.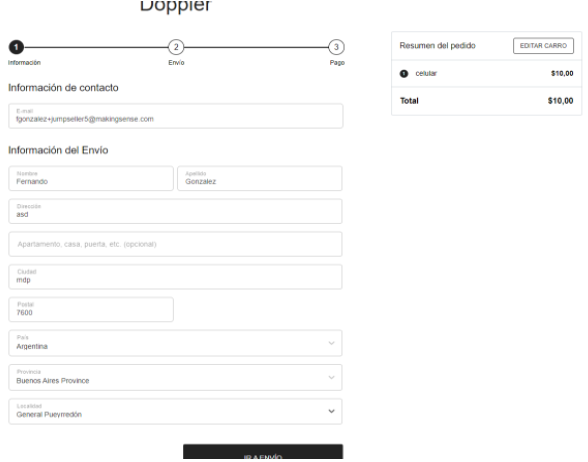 2. Next, all the information related to the shipment must be completed. Where order information and delivery method are reviewed.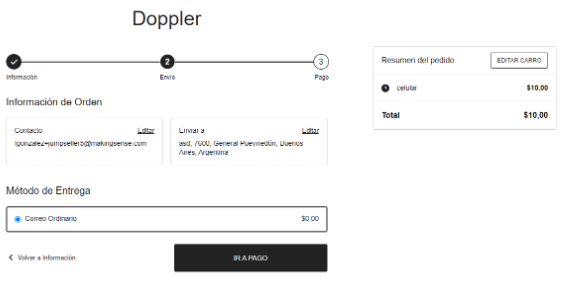 3. Then, in this step the entire checkout process happens. Where you must choose the payment method and billing address of the purchased product. And if the user abandons the purchase, the abandoned cart instance is configured, according to how you have previously set.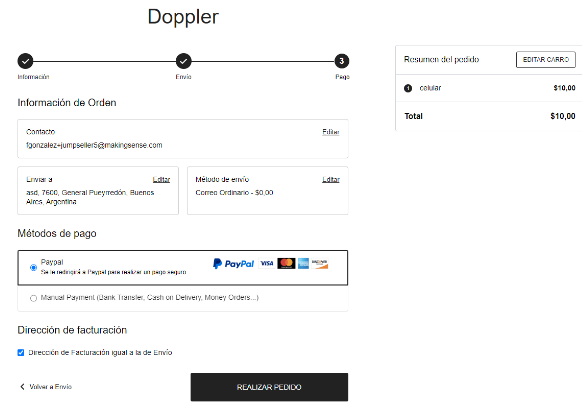 Other points to keep in mind when making this configuration
In addition to knowing how to do it step by step, there are another series of issues to consider in this integration.
Jumpseller creates the abandoned carts with the order creation date.
For configurations prior to the moment of creation of the abandoned cart, it will have the date on which the original order was created (when the user reaches step 3)
For example: an order created at 3:00 p.m. and configured to be recognized as abandoned at 3 p.m. In that case you will get an abandoned cart created at 3:00 p.m. instead of 6:00 p.m.
From Doppler you can search for orders 2, 6 or 24 hours apart.
So in the example given, if the automation is configured as "Send the Email 2 hours after the cart is abandoned" that cart will not be detected because by the time it is available to obtain its date it will be 3 hours apart.
That is, when the automation searches for the 3:00 p.m. orders, the abandoned cart will not be created yet, it will only be created when the automation is consulting for the 4:00 p.m. orders but the cart will have 3:00 p.m. Therefore, this cart will not be detected by the automation.
In short, as long as the time configured in Jumpseller is greater than that of Doppler, the cart will not be detected.
You already knew everything about this Jumpseller novelty. Now is your time to configure this functionality in your store and encourage your users to complete their purchases.
Good luck! 🙂