Heatmaps: How to use them to optimize your Email Campaigns?
Have you ever heard about Heatmaps? You can check them out now in Doppler! Find out how this feature will help you analyze your Email Campaigns performance better and faster.
If you're using a platform that doesn't provide a Click Report in the form of a Heatmap, it's time to try Doppler! Create your free account with limitless shipments up to 500 Contacts.
In the Report section of every Campaign you send with Doppler, you'll see a preview of your Email at the end of the page. This sample of your Email is full of colored dots to claim for your attention: they show the amount and percentage of unique clicks your links have had. If you want to know the %, just hover the colored area with your pointer.

This info works as a complement to the Links Report that is generated with every Campaign. The Heatmap helps you quickly identify links with more Clicks from your Subscribers, as well as their location in the body of your Email. For your reference, this is what the Heatmap of the Doppler Newsletter looks like: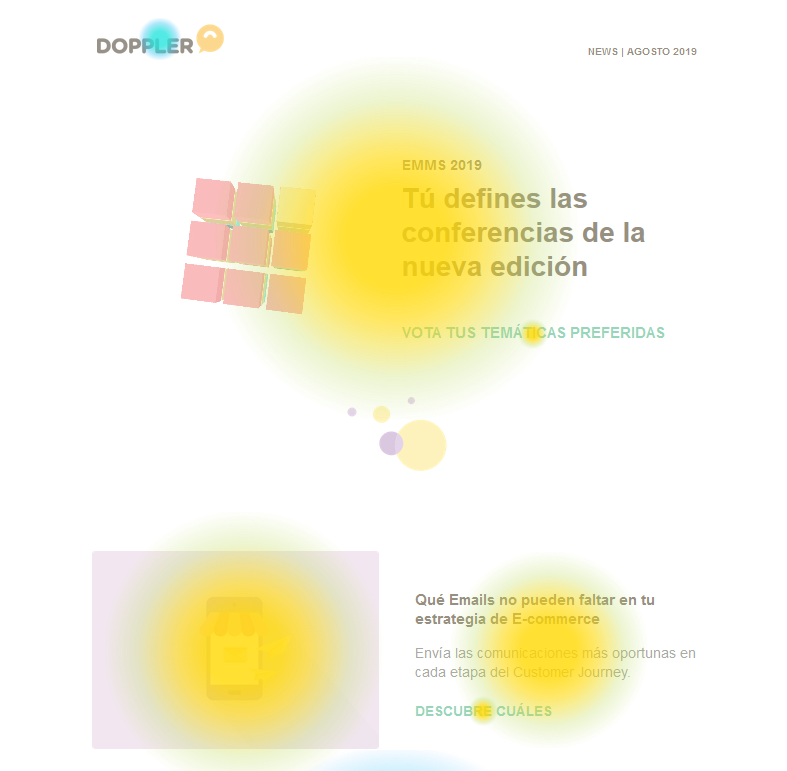 The Heatmap will help you to:
– Faster visualize your Campaigns performance.
– Get total and percentage on the number of Clicks that will be useful to improve the Reports and metrics of your shipments.
– Analyze how successful it was to include this or that link across your Email.
– Take the best decisions for your next Email Marketing Campaigns.
We hope you can take advantage of all the information you'll find on the Heatmap as soon as possible.
Have a great Campaign!