How to remove multiple Subscribers at once
Performing a proper maintenance and cleaning your Database is essential to increase the effectiveness of your Email Marketing strategy. With this functionality, your work will be more than simple!
From now on, Doppler allows you to import a file including the Subscribers that you need to remove so that you can do it in one go. Easy, isn't it?
First of all, log in to your Doppler's account. Don't have one yet? You can create it for free here. Then you should go to the Lists section and click on Subscribers.

There you'll access the Master Subscribers where you'll see all the contacts in your account.

Press the Remove button. A box will pop up, and there you'll have to import your file including all the contacts you want to remove. The file must be the same format as the rest of the files that you normally use to import your Subscribers into Lists.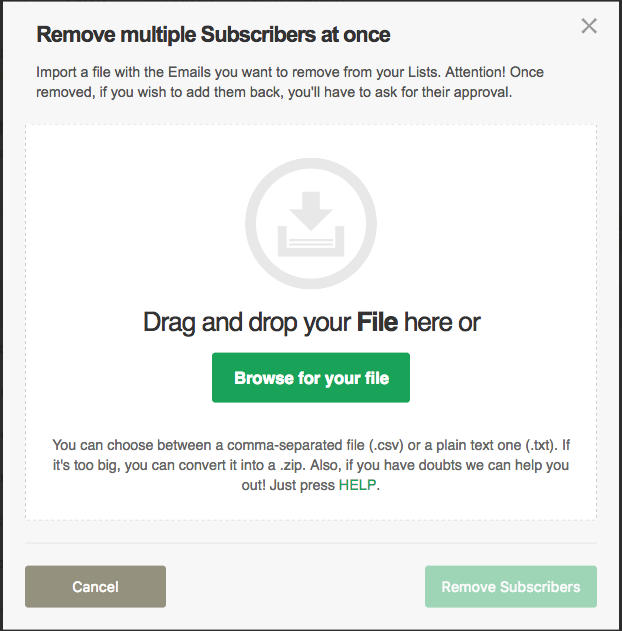 Pay attention! Because once removed, you'll have to ask them to re-subscribe to your Lists.
Once that's done, click Remove Subscribers. You'll see a box indicating that the order is being processed and that once it's finished, you'll receive an email notifying you.

That's all! It was simpler than you thought, wasn't it?
It should be noted that the fact that your Subscribers are removed doesn't mean that they'll be eliminated from your account, they'll be disassociated from all your Lists, and therefore, won't receive any of your Campaigns.
Also keep in mind that this functionality isn't enabled for Plans by Subscribers. Amazing!
Each time you have more functionalities especially designed to facilitate your work and to improve your Campaigns results. Take advantage of them! Have a great Campaign!