Smart Subject module: features to improve its effectiveness
Doppler adds a Smart Subject module in order to improve the Open Rate of your Email Marketing Campaigns. It has several features based on data analysis, to predict and achieve those good results.
Analyzed data comes mainly from Campaigns sent by Doppler users, and also from the history metrics of each account. Those huge information volumes are analyzed in comparison with the good Email Marketing practices; practices and keywords associated with Spam and also with peculiarities of each industry.  
Features included in the Smart Subject module are:
Industry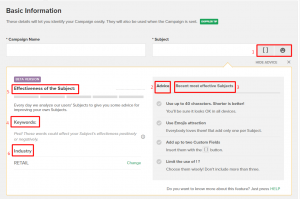 Let's see what is the scope of each one and how they help you to write optimized Subjects to increase your Campaigns' Open Rate.
IMPORTANT INFORMATION: Features of the Smart Subject module give recommendations mostly based on Big Data. You don't have to attend all of them but we suggest to do it, and it will never block the sending of your Campaigns.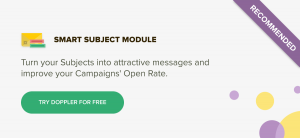 Emojis & Custom Fields in Subjects
When you have to define the Basic Information of your Email Marketing Campaign, you'll see two buttons in the Subject cell. They allow you to include Custom Fields and Emojis directly from there, so your communications will have a wow effect that helps to improve your Campaigns' Open Rate.
By clicking the [ ] button you'll see all Basic and Custom Fields you can add. And clicking the other button 😀 you'll see all the Emojis you can include in your Subject. You can be sure that all of them will be visualized correctly, no matter the Mail Client.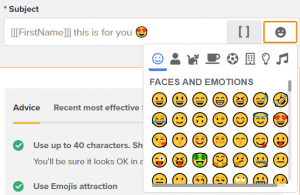 Good practices in Subjects Guide
Here you'll find advice based on the industry's good practices. Before starting to write your Subject, you'll see as this: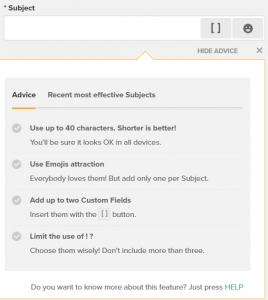 Once you start writing your Subject, you'll see some indicators and alerts to draw your attention and see how aligned is your Subject with the industry standards.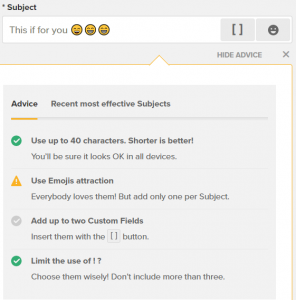 Results of those indicators come from a previous and smart analysis of thousands of Subjects and their performance. We suggest to take them into account to improve yours!
Most effective Subjects List
Here you'll see Campaigns Subject with the best Open Rate of the last weeks. 
Some considerations:
Up to five Subjects

will be listed.

The period of the analysis is

90 days.

Only

Campaings sent to more than 100 Contacts

will be taken into account, in order to provide you useful and representative information.
Keywords Highlighter
As you're writing your Subject, you'll see that some relevant words turn colored in red, yellow or green. This is to draw your attention to words consider "positives" and mainly, alert you about words that Doppler considers negatively, so they could affect your Open Rate. 

If your Subject only has green Keywords, you are in a good way! Keywords in yellow have a doubtful efficacy: you can use them but not in abuse! If your Subject only contains red Keywords, we suggest to rewrite it until most of the words turn green. If not, your Campaign will probably have a low Open Rate 🙁  
Effectiveness indicator
Taking into account results achieved in the Good practices in Subject Guide and the Keyword Highlighter, Doppler will give you a forecast of your Subject effectiveness through a semaphore indicator.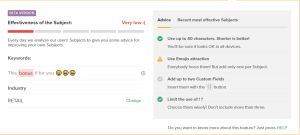 Values will range between five states with their associated colors:
In different red tones: Very low and Low.

In yellow: Medium.

In different green tones: High and Very high.
And the bottom of the box, you'll see the industry you have configured when you created your Doppler account. It is very important that you complete this information with the right option; otherwise, the results of the Smart Subject module could be not representative. You can simply update it by clicking "Change". 

And that was all! We'd love to know your experience writing Subjects with our Smart Subject module. Was it useful? Have you seen any improvement in your Open Rates? Please tell us, contact us or leave a comment here 🙂  
Have a great Campaign!