Contact Policy: what is and how to configure it
Thanks to the Contact Policy feature, you can limit the number of Campaigns your Contacts will receive from you in a period of time, and define a rule according to your strategy.
You can also exclude up to 10 Lists from the Contact Policy, or not apply it for a specific Campaign.
Let's see what Contact Policy is and how to configure it in a few steps.
Advantages and benefits of setting it up
This feature has many goals, such as:
Do not saturate your Database: If a Database is one of the most valuable assets of a business, manage it consciously, carefully, and strategically. By setting a Contact Policy, you won't send all your Campaigns to the same people, but at the same time, you can choose if you want to send a particular Campaign anyway.
Avoid massive unsubscriptions: A negative effect of sending all your Campaigns to the same people could be the unsubscription to all your Emails. And you don't want to spoil all your Lead Generation efforts! Setting a Contact Policy with a certain number of sendings will help a lot with this issue.
Favor Segments creation: One of the keys in Email Marketing is Segmentation. If you have a Contact Policy, you need your Database to be segmented in order to send to any person what he or she really wants.
Improve the general performance of your Campaigns: If your Contact Policy considers your strategy and your Contact's needs, you probably won't saturate them. You won't give them any extra reason to remove from your Lists and will send relevant content only. So there is a high chance that when they receive a Campaign from you, they open it!
In other words: the Open Rate and the Click Through Rate of your Campaigns will also benefit from a Contact Policy.
There are so many reasons to purchase a Plus Plan and get this feature! Let's go-ahead to configure a Contact Policy!
Configure a Contact Policy step by step
1- Log in to your Doppler account and go to Control Panel. In the Campaign Preferences section, click Contact Policy.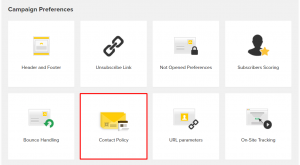 2- You'll see an inactive toggle button; by clicking it will turn on green. Now you have to enter two values: the number of Campaigns to send and the number of days among which your Contacts are able to receive your Campaigns. Maximum values are 999 Emails and 30 days.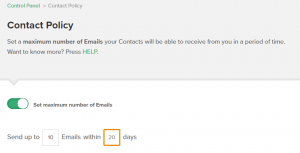 3- If you want, you can exclude up to 10 Lists from the Contact Policy. This means that Contacts from those Lists will receive all the Campaigns you send, in case you choose one to be part of the sending.

4- As you select Lists to exclude them from the Contact Policy, they will be listed on the screen. You can delete any of them if you want to replace it from another List, or if you prefer that Contact Policy affects also that List.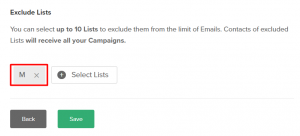 5- In addition, you can configure the time in which your Contacts receive your Campaigns. How can this be done? As seen in the image, you can enable two options: only from Monday to Friday or only during a certain time slot that you can configure as you need.

6- ¡Don't forget to Save changes! So the Contact Policy starts to be applied.
Ignore Contact Policy for a specific Campaign
At the time you choose the Sending Type, no matter which option you select (Immediate, Scheduled or Smart Send Out), you can exclude the Campaign from the Contact Policy. You only have to click "Yes" on the radio button. 

You can ignore the Contact Policy for a specific Classic Campaign and also for Automatized Campaigns.
In addition, now when you apply the contact policy settings in any of your Campaigns you will see (as in the image below) those that are paused, the sending progress and also the date on which it will resume, depending on what you have previously configured.
That was all! Have a great Campaign 🙂