Discover the Smart Sending of Campaigns
Doppler has an interesting feature to collaborate with the Open Rate of your Campaigns: the Smart Sending. Discover more about it in this article!
How to take advantage of the Smart Sending
You decide what day you want to send a Campaign and Doppler does the other part of the work. We would say that the Smart Sending is a variant from the Scheduled Sending that optimize the deliverability of your Emails, based on the historical behaviour of your Contacts with your previous Emails. It also takes into acount the behaviour with Emails sent by another Doppler users.
With the Smart Sending, each Subscriber will receive your Campaigns at the time he or she usually opens his or her Emails, accord to the information that Doppler has about that Subscriber. So it 's more probable he or she will open your Campaign. It´s a great new, isn't it?
Let's see where you can find this option and how to configure it.
Schedule your Campaings with Smart Sending
Would you be interested on use it? You will need a Paid Plan. But even if you buy the cheapest Plan (USD 15), you will be able to try it. Here you can see all the Doppler Plans. Don't you have a Doppler account yet? Create it for free until 500 Contacts.
Have you already update you Plan? Let´s go ahead!
After create you Campaign and before sending it, you will see the Summary of your Campaign. At that point you will review all the steps and the information about your shipment:
Basic information,
Content of the Campaign,
Lists or Segments of Contacts that will receive your Campaign,
Type of Shipment

If you click on Program Send Now you will see three types of shipments: Inmediate, Scheduled and Smart.


If you choose the Smart option, you only have to set up the day and the initial hour to start the shipment. During the next 24 hours, Doppler will choose the best moment for each Subscriber based on their personal information.
As you can do in the Scheduled Send Out, you can also define until five Email addresses that Doppler will notify when the shipment is over.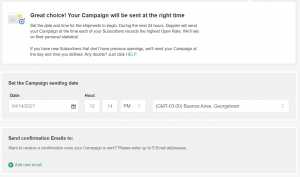 After you click on Save, you will return to the Summary of the Campaign. There you can see all the information about the Smart Sending you have just configured. In case you want to edit something just do it with the pencil icon.

Your Smart Sending Campaings will appear in the Scheduled Campaings section until the shipment is finished.
Some other considerations
What happen if I send a Campaing to one or more new Subscribers, so Doppler doesn't have any information about the best time for each one?
Doppler takes into account not only the openings of your previous Campaigns, but also any other interaction with another Campaing sent from Doppler. 
This means that if a Subscriber is also in another List of another Doppler user, his or her opening history provides the information that Doppler uses in a Smart Sending.
With Doppler, shipments are not only Smart but also Very Smart 🙂 because the feature takes into account all the shipments done with the platform.
In case there is no previous history for a Subscriber, Doppler will send your Campaign at the time you have configured.
Which day and time the Campaign Reports will show about the shipment?
Reports will show the day and the time it started.
Can I cancel or stop a Smart Sending?
Sure! Both options are available also in this kind of shipment. If you choose to cancel it, the Campaign will go to Draft. But if you prefer to stop it, it's possible than many Subscribers have received it. If you want to continue the shipment later, review this article.
To stop a delivery which is in progress, contact with the Support Team in order to enable this feature specially for you 😉
Smart Sending is currently available for A/B Tests or Email Automation Campaigns?
No. Currently you can find this feature just in Paid Plans, to send Classic or Social Email Marketing Campaigns.
That's all! We're sure you want to use this feature as soon as you can to increase the effectiveness of your Campaigns.
Have a great Campaign!