How to integrate WordPress with Doppler
In this post you will learn step by step how to feed you Doppler Lists from a WordPress Form. Then we'll talk about Doppler Plugins for WordPress, which you can easily download and install in your admin. Finally, we'll see how to add a Doppler script in WordPress to boost you digital strategy.
The first thing you should do is to download the Plugin. This will allow you to add a form to your WordPress' Site or Blog and will give the chance to your visitors to subscribe to your Doppler Lists. Click here to download the Plugin.
Once you have the Plugin in your PC, log in to your Doppler account and choose "Plugins" in the WordPress admin panel. When the options are displayed, choose "Add new one".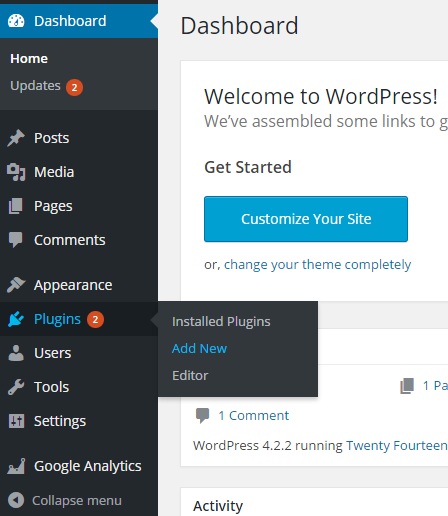 Click on "Upload Plugin".

Select the file called "Doppler Form" and click on "Install now".

Once the file is successfully installed, select "Activate Plugin".

On the next screen you will see it with other plugins you already have.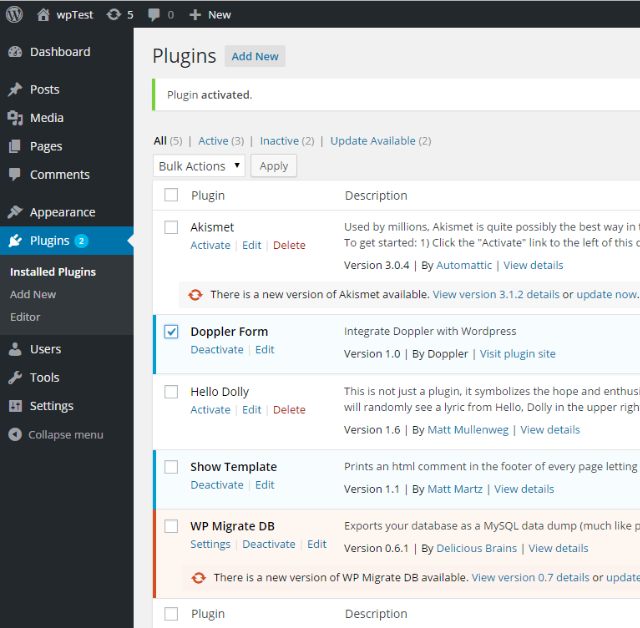 Now go to "Doppler Forms" in the Admin Panel to integrate it with your Doppler account.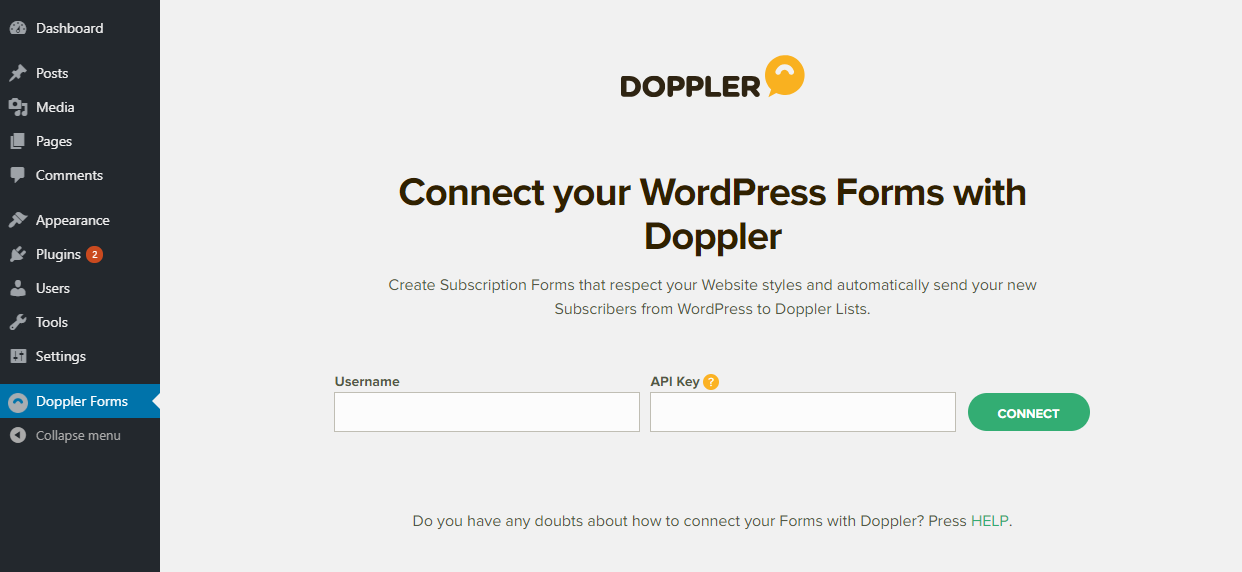 Introduce your username and API Key. If you don't know how to get it, you can learn it here. Press "Connect".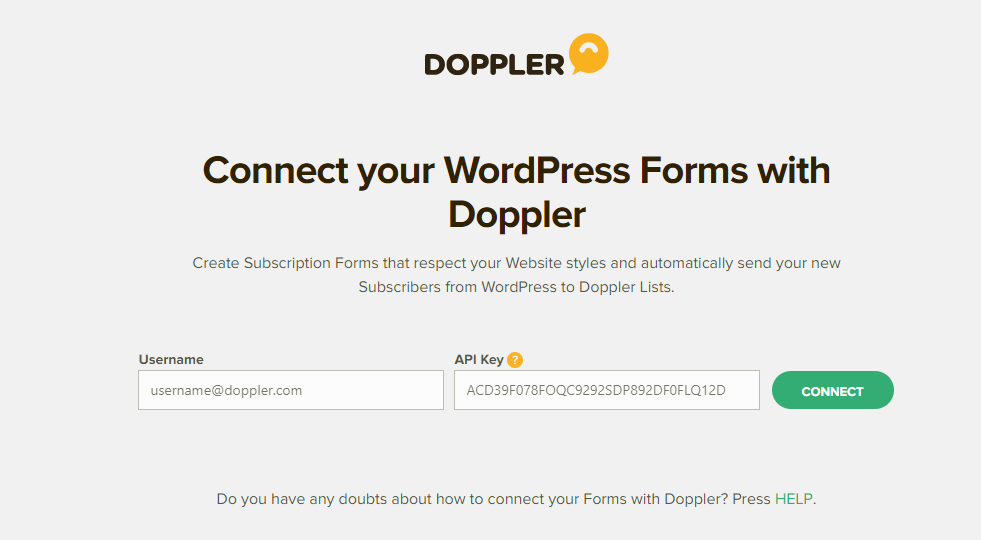 You've already integrated your Doppler account with your WordPress Form. It's time to set up your Form's appearance such as you want your Subscribers to see it!
Go to "Doppler Forms" and click on "Create Form" to create your first Doppler Form. Complete the necessary fields and link your Form to the Doppler List you wish to feed with your Subscriber's information.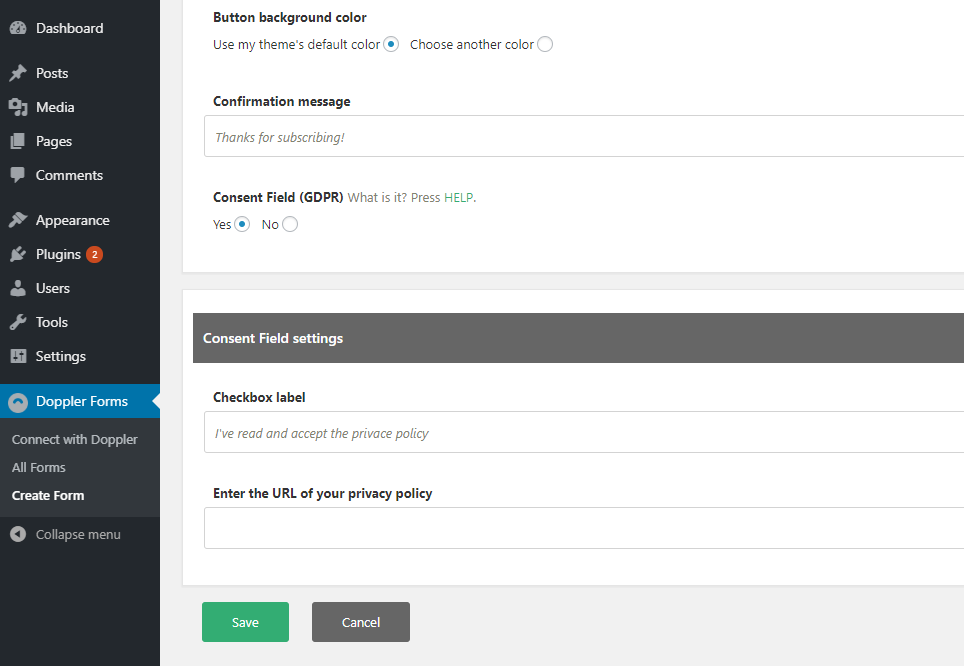 Note that you can also select the type Opt-In, single or double.
The Simple Opt-in does not require more than completing the information requested in a Form to register and start receiving communications. It is an easy and fast type of subscription to implement.
On the other hand, the Double Opt-in implies not only the subscription via the Form, but also the confirmation of it by means of an email that the user receives immediately after. For this you will have to complete the necessary fields to define this email as well as edit its content through the visual editor or with HTML.
Configuring a double opt-in subscription type will help maintain the quality of your lists and prevent your emails from falling into spam by confirming the consent of your contacts to be part of your lists.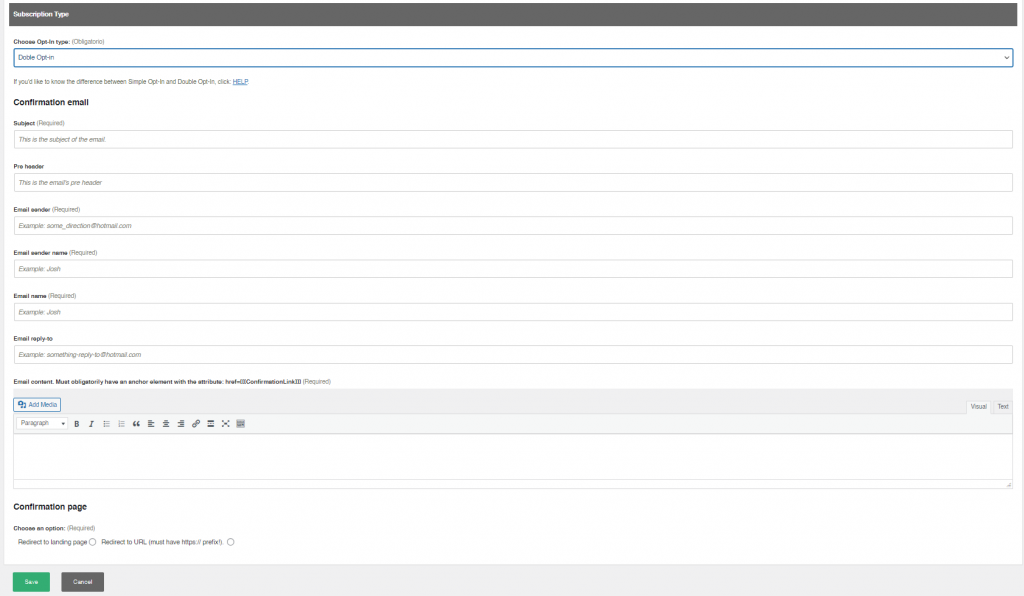 To show your Doppler Form in your Website, you can do it by two different ways:
1- Copying the Form's shortcode and pasting it on the page you choose, using the WordPress editor.
In the "All Forms" section, identify the one which you want to show in your Website, and copy its shortlink.

Go to the page of your Website, add a new block and choose the "Shortocode" option, or click "Edit page". Paste your Form code, and that's all!
2- Through a widget
To show your Doppler Form in your Website, go to  "Appearance" in the Admin Panel and select "Widgets". You will see the Doppler Form between the available widgets. Drag it to the "Widget Area" window and choose the place where you want to see your Form.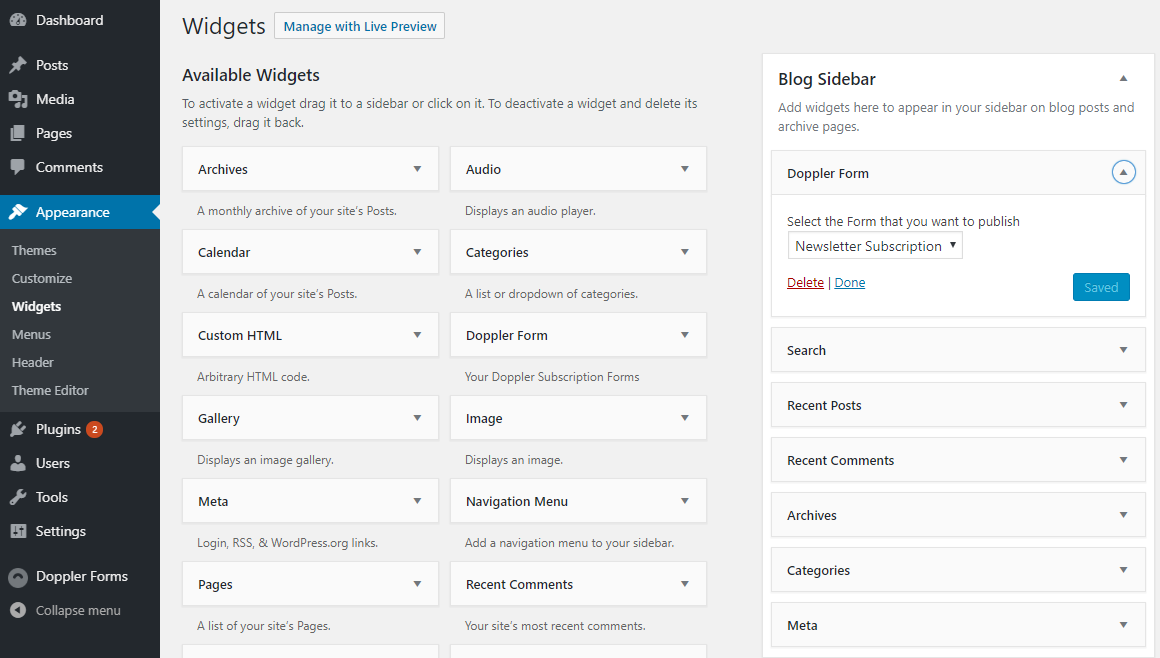 When you click on the new Widget, it will allow you to choose the Doppler Form you want to publish. Press "Save" and it's done! You should now see your Form published on your Website.
You can go to your WordPress Site or Blog and see the new form, ready for your visitors to join your Email lists.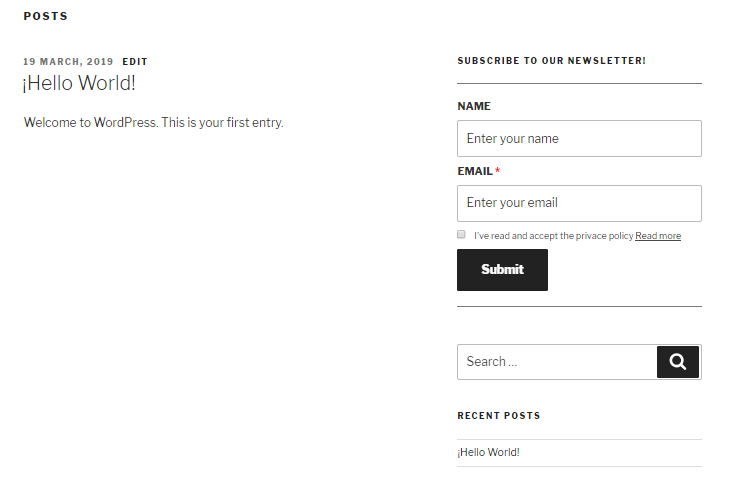 Increase your Subscribers' Lists through your WordPress' Form!
Discover our Plugins for WooCommerce and LearnPress!
Doppler for WooCommerce is perfect to synchronize your Customers and Contacts with your Doppler Lists, in order to send Email and Automation Campaigns.
With Doppler for LearnPress' Plugin you will be able to integrate your E-learning site with your Doppler account. So you'll have all the students and Contacts of your business also in Doppler!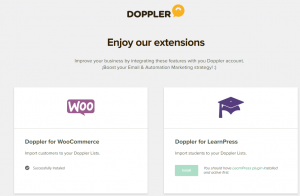 To finish: How to add Doppler script in WordPress
Since the 2.2 version of Doppler Forms' Plugin, insert this code is so simple! Only one thing: be sure that you have it correctly installed.
To have access to the script you need a Paid Plan at Doppler. In this article you'll see where to find it. Once you copy it, you have to:
Go to Doppler / Doppler Forms.
Go to the On-Site tracking section.
 Paste the code in the box and save the changes.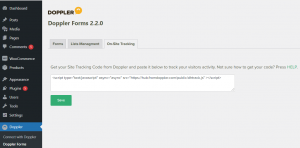 IMPORTANT: If a developer has inserted the code previously into the PHP file of the WordPress admin, you don't have to put it in Doppler Forms because it would be duplicated.
That was all! We wish you can take advantage of this integration to improve your strategy.
Have a great Campaign!