How to avoid a blocked list and what is a blacklist
A blocked list can appear when importing contacts in Doppler and it is essential to learn how to reverse the situation so you can create effective email campaigns. The objective of preventive blocking is to avoid sending messages that could damage your reputation and jeopardize the effectiveness of your messages by contacts who are in a blacklist.
Contacts affects the quality of your list if they are included in a blacklist. To prevent this, a "Blocked List" warning will appear if you reach a certain percentage of contacts who are suspected of spamming.
What is a blacklist
Blacklists are lists that identify addresses associated with sending spam or junk email. They were created to help stem the flood of spam that began when the widespread use of email became popular. 
With blacklists, email providers got a resource to see which IP addresses had a reputation for sending unwanted or malicious email to recipients. 
This does not mean that blacklists block your messages, the email providers do it themselves.
Why get on a blacklist
Emails can be part of a blacklist for several reasons: the domain containing the email address, having hard bounces in your history or abuse reports, or being part of previously detected "trap accounts".
Blocked list when importing contacts
So that you don't end up on a blacklist, we want to help you so that your reputation and open rate are not affected. The Blocked List warning will be useful for you to have much more efficient campaign deliveries.
Let's see how imported list blocking works and more importantly, how to avoid it!
There are different ways to import contacts to Doppler, either manually, by API, synchronization of some integration tool, entry of contacts by form or automation.
Doppler will perform an automatic analysis whenever you add contacts to a list to determine what percentage of the contacts belong to the blacklist and what percentage do not.
The list will be blocked for sending if it contains a critical percentage of contacts in the blacklist. You will see it like this:

When you have a blocked list in your grid, you will not be able to send any kind of mailings to it. Also, you will not be able to create a form based on this list, add more contacts manually or perform any mass import.

How to revert a blocked list
Once you have finished importing contacts and the list has been blocked, you will have the option to revert the last import. With this function you will unlock the list quickly and easily.
By clicking on the revert icon, the last import you performed will be canceled and the list will return to the original state before the last import of contacts.

List with contacts in blacklist not reaching the critical percentage
The list will not be blocked if when importing contacts to a list Doppler determines that there are some contacts in the blacklist, but the percentage does not reach the critical value.
Important: when sending to this list, you will not send to contacts that are in the blacklist. In the sending reports to this list, the "bad" contacts will be shown according to the classification of the reasons for entering the blacklist as "Hard", "Soft" or "Unopened emails", as the case may be.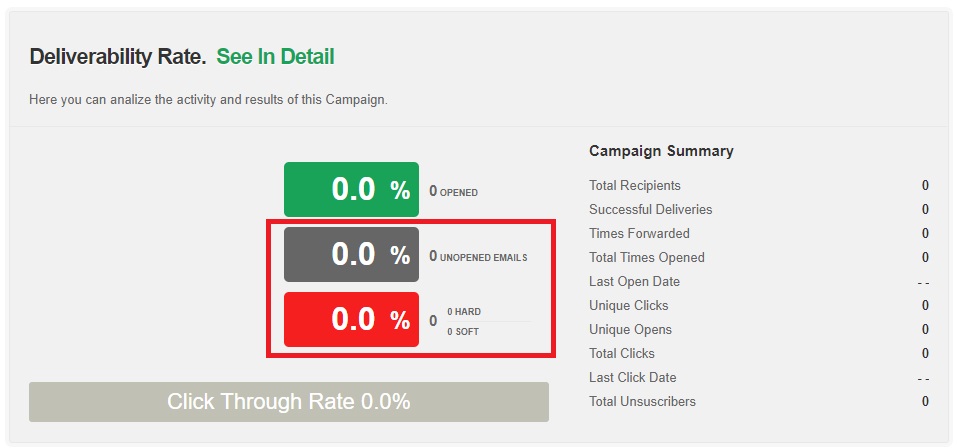 Blocked lists and segments
The created segments can also be locked, as in the case of lists. This will be reflected in the segment grid with a label indicating "Segment locked".
One scenario in which this locking can occur is when having a segment associated with a list and this list is locked after the segment is created. Then, the associated segment will also be locked. This is resolved as follows: go to "Edit Criteria" to deselect the locked lists associated with the segment. 
Note that if the segment is blocked you will not be able to convert it into a Main List since it is not possible to use blocked lists to send to them, nor can you use segments associated with blocked lists.
Let's review
The quality of the contacts is very important when importing them to your lists. Preventive blocking will warn you if you have a high percentage of blacklisted contacts before you can send. 
If you have a blocked list or segment, you will not be able to use them for classic campaigns, automation or forms. You will have the possibility to unblock them either by reversing the last import, manually modifying the contacts in your list or editing the criteria in case they are segments.
That's it! You now know how to use your new lists.
Any questions? You can contact our Customer Service team by WhatsApp. We are here to help you.