How to validate your From-Email domain?
Before sending any Email Campaign is important to validate that you have access to the domain you are using. This means that you're using a domain that is your property or you're authorized to use it.
In order to prevent your Campaigns from ending up in the Spam folder, protect your sender reputation and guarantee others can't use your domain without your permission, we have developed this functionality.
In summary, validating your From-Email domain is essential to strengthen the security of your Campaigns and also to prevent phishing or identity theft. Do you know what is best? It's a very simple process to carry out, and you only must do it once for each domain that you use. Discover how to implement it in this tutorial!
Step by step to validate your From-Email domain
1- Enter to your Doppler account. Don't have one yet? Create it for free to send all the Campaigns you want up to 500 Subscribers. Go to the Campaigns section and configure one from scratch.
2- Once you are in the Basic Campaign Information section, complete every field. When you enter the From-Email with your own domain the message that you can see below will appear.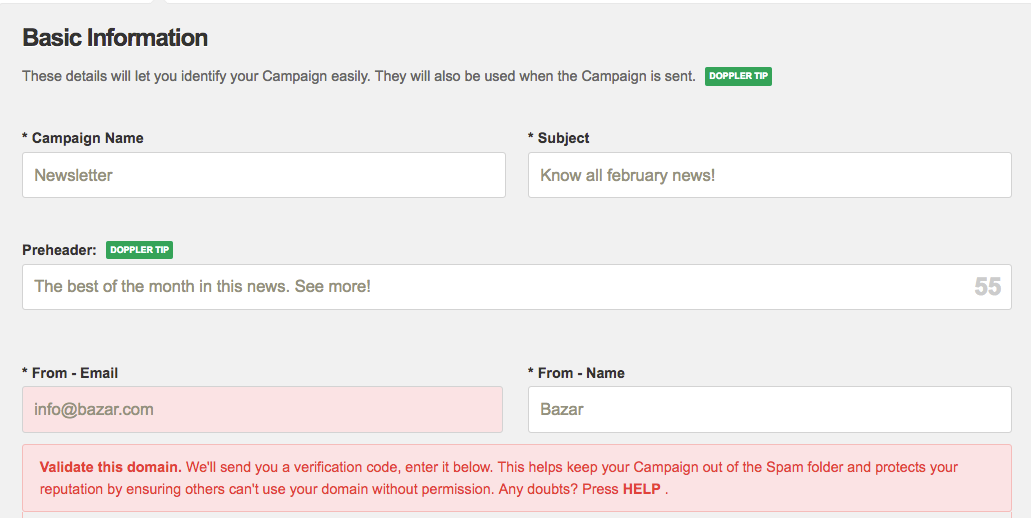 3- Enter the Email address in which you want to receive the verification code that you'll need to validate the domain. Keep in mind that the Email you enter must have the same domain you are trying to validate. Then click on "Send".

4- Go to your inbox, open the Email we sent you and copy the verification code.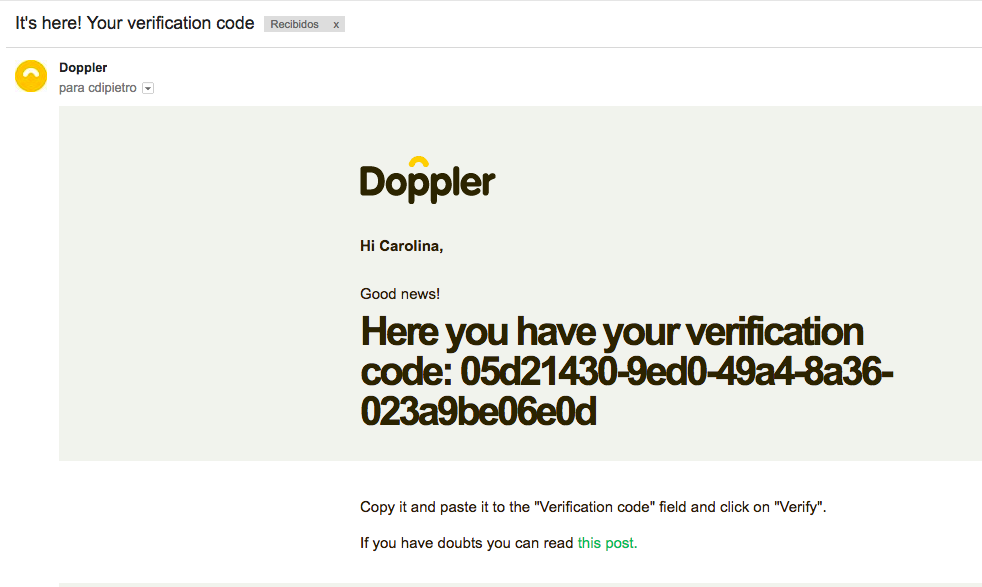 5- Paste the code in the corresponding field and click on "Verify" button.

That's it! It's too simple. You must only follow this process when you want to add a new domain.
Did you have any problem?
If you've followed the steps to verify your domain, but you haven't received your domain verification Email, it could be happening some of the things we mention below:
Allow more time. Depending on Internet traffic and how busy your ISP is, it can take a couple hours that Emails to arrive. This usually happen around holidays and peak sending times.
Resend to a different address. You can try resending the verification message to a different Email address with the same domain.
Add Doppler to your safe senders list. Add

[email protected]

to your safe senders list. This is the address the verification Email comes from and this will help prevent the message from being mistakenly blocked or marked as Spam.
Continue increasing your Campaigns security
We have great news! By completing the domain validation process you are halfway to configuring the DKIM and SPF of your account. These Email authentication systems help improve your Campaigns security and avoid phishing. If you don't use them the effectiveness of your shipments can decrease considerably in servers that check the DNS record of the source domain. Learn how to configure them here!
Don't leave for tomorrow what you can do today. Increase your Email Campaigns security and improve their delivery using this feature.
Have a great Campaign!