How to build a Plain-Text Campaign
The Plain-Text Campaigns are a key element in any Email Marketing strategy. Find out why it is so important to take advantage of this type of Campaigns and how to properly build them with Doppler.
Unlike an HTML, a Plain-Text Campaign is a piece of Email made up of regular text and, just if you want to, graphic content. The lack of visual support in this type of Campaigns requires a good paragraph structure. This will let your message be well organized, clear and easy to read.
Just as it is possible to import an HTML file or to use a pre-designed Template, Doppler allows you to build a Plain-Text Campaign from the Editor. To be able to try this type of Campaigns, you must first login to your Doppler account. Once you have completed the previous steps, you will be asked to create a Campaign and to complete its Basic Information.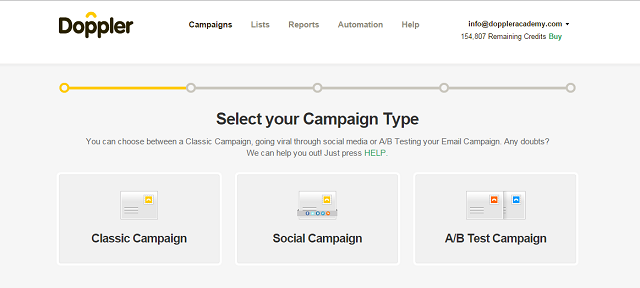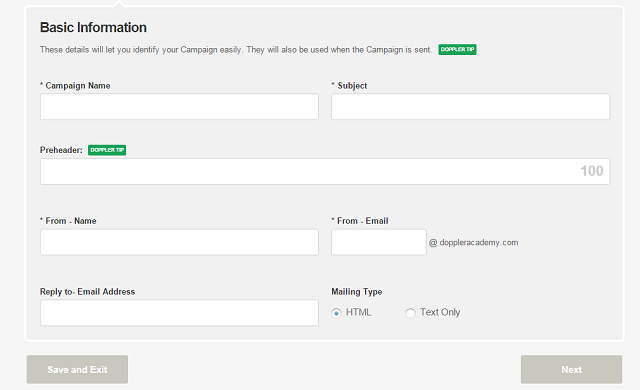 Then, you will have to select to create your Campaign from Editor.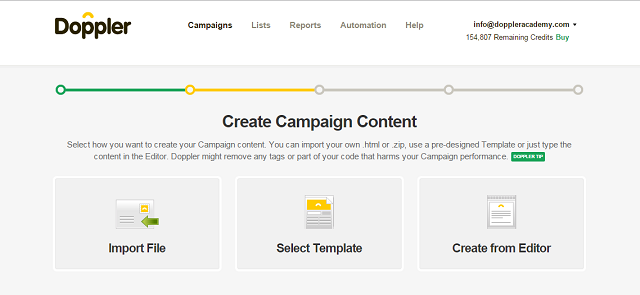 You can now use our Text Editor to compose your Campaign content, edit style & format and choose the font, color and alignment of your text. You can also add Custom Fields and links. If you have any doubt regarding how to create a Customized Field, this post may help you.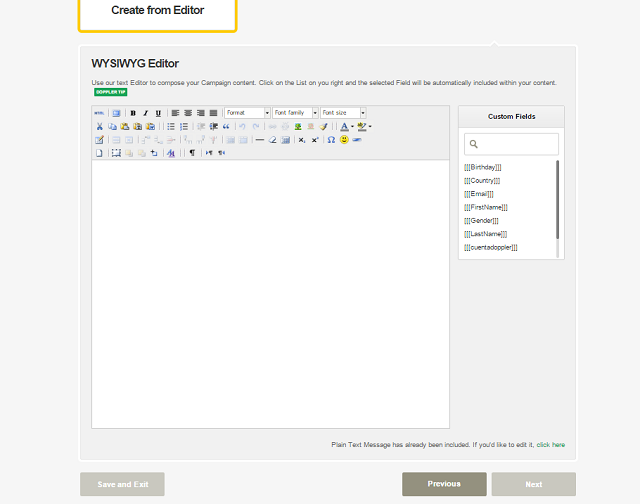 To end with, pay attention to our special tips and optimize your Plain-Text Campaigns:
– Use standard fonts: Made use of a traditional font family in your text, such as Times New Roman or Verdana. They will ensure a clear eye path for your Subscribers.
– Take advantage of the whitespace: These spaces will provide your Subscribers with a positive Email experience, making it easier to read and follow any of the CTA.
– Try to write a short and precise message: If your Subscribers receive an Email full of text blocks, they may decide not to read it at all. That's why it is always preferable to be as specific as possible. Part of this is organizing content so it is easily scannable. Headlines are of great help for this purpose!
– Make use of the Custom Fields to humanize your Campaign: Click on the List on your right and the selected Field will be automatically included within your content.

– You can also profit from bold and italic text to highlight specific parts of your content. A question mark or an exclamation point can be good allies too.
– Include URLs to key destinations: If you are willing to complement you Plain-Text Campaign with a Landing Page or any other dynamic and visual site, you can include them in the email body to be displayed as a link. In this way, your subscribers will be invited to interact and learn more about you.
While they may not be as eye-catching as an HTML-based Email, they surely play a significant role in an effective and complete Email Marketing strategy.