How to create a Subscription Form?
Doppler allows you to create Subscription Forms to feed your Lists with new Contacts in a simple way.
In this post you will learn:
How to create a Form in Doppler
As we were telling you, creating Forms with our editor it's pretty easy. First of all, login to your account and go to Forms Editor. There are two ways to get there:
"Lists" >> "Forms" >> "Create Form".
Click on one of your Main Lists, and then on the button "Create Form".
After clicking on that button you will see an initial screen; at this step you have to choose one of the Form types that Doppler currently offers: Classic, Pop-Up or WhatsApp Pop-up Forms.
Don´t you understand each Form? Relax! There you can find a brief description of each one; it will surely help you make your choice. Keep reading this post and we'll teach you the main features of both.
Have you already choosen your Form type? Now give it a name for your new Form and move forward with the Initial Setting:
The associated Doppler List where all the contacts will be part of.
The Form type you want to create.
The language of your Form (English or Spanish).
You can also set if you want to receive an Email notification (in one or more Email adresses) when a new Subscriber joins a Doppler List through this Form.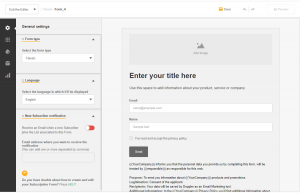 The first thing to do is to choose the Form type you want to use. Let's see what are the main differences between the Classic Form and the Pop-up Form.
Forms types
With Doppler you can customize your Forms choosing the best format and type for your business.
Classic Form
As its name says, these are the type of Forms you probably have seen embedded in many Websites or Blogs. You can also create these type of Forms with Doppler.
In the "Elements" section you'll find all the components you can drag into your Forms. You can also put them in the order you prefer:
Images
Text
Consent checkboxes
Default and Custom Fields
"Send" button, Share and Follow buttons
Separator line
In the "Styles" section you can fully-customize your Form and make some decisions towards:
Color and Background image,
Size and margins of the container; colors and opacity; style, size and curvature of the edge,
Size, alignment, color and text of the button to complete the sending of the data required in your Form,
Color and typography of each Field of the Form. Important: if you choose a custom font (non standard), some users may not see your Form correctly. In that cases, Doppler will automatically replace the custom font with a standard one, in orden to make sure that your Form will be seen correctly.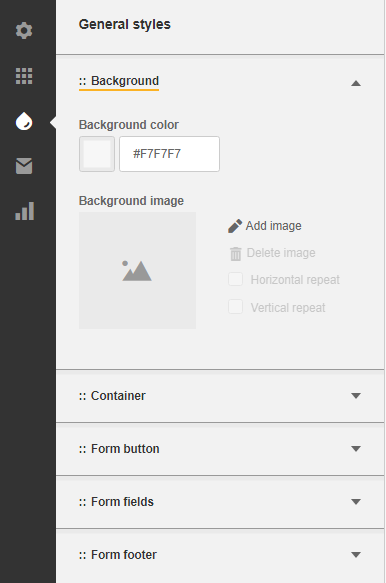 In addition to the customization carried to the highest level, you can use our Forms as Landing Pages and share them throughout a public URL, no need to embed them in a Web. Do you want to start using your Forms as Landing Pages? We will tell you more about it at "Distribution ways".
Pop-up Form
This type of Form appears unexpectedly when a user navigates through a Website. They are really useful to capture new Subscribers, and they have a high Conversion Rate because they work with a "surprise effect".
Do you want to configure a Pop-up Form on your Website? Select it on the "General Settings" and define the Apparition Rules:
User's time of permanence after which the Pop-up Form will appear.
In which devices it will be shown: desktop, mobile or both of them.
Form reappearance time, in case the user closed it the first time of appearence.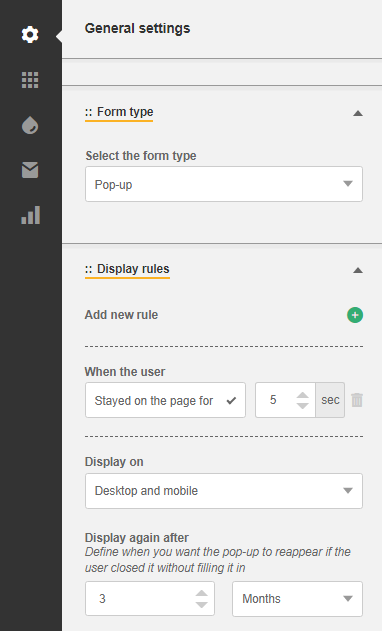 After setting these topics, you will define all the Elements and Styles of your Pop-up Form. This procedure applies for Classic Forms as well, with an additional configuration in the "Styles" section from which you'll be able to personalize the Overlayers and the Close Button.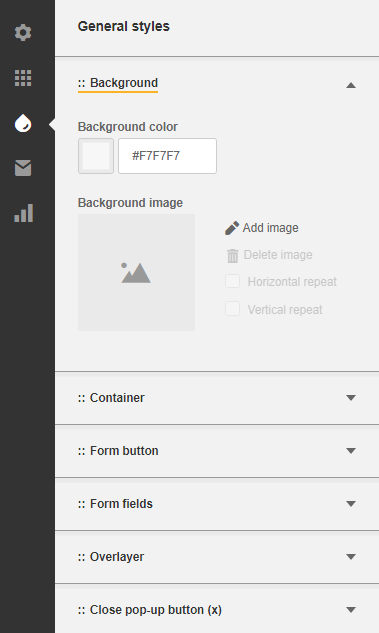 WhatsApp Pop-up Form
This Form is about a button with a WhatsApp icon, and it is displayed when a user clicks it. After he or she complete the Form and submit it, the WhatsApp chat will be opened.
The button will appear in the lower right margin of the screen by default, where habitually you can find Chatbots, virtual assistants or any other Help or Customer Service app in a Website.
This Form is very valuable to offer another direct communication channel in real-time, and it also works like any other Subscription Form. It is associated with a Doppler List, so you can capture new Leads for your business and send them Email Marketing Campaigns and turn them on clients.  
Main considerations to configure a WhatsApp Pop-up Form:
As you do in the other Form types, you have to select a Doppler List to save the information about your visitors. You can also edit every visual element and the Custom Fields you want to be completed. 
At the left of the screen, by clicking on the WhatsApp icon you have to enter a phone number (be sure it's associated with WhatsApp) your visitors will be able to chat if they want. You can also edit the initial message of the conversation.

To insert the Form into your Website, Blog or E-commerce you have to embeed the code Doppler provides you once you finish the configuration and the edition. At the Publication and distribution options section of this article, you'll find useful information to do it correctly. 
Now that you know more about these two kinds of Forms you can go ahead and create your own with Doppler. But to begin, we need to tell you more about the type of Subscription you can ask for: Single and Double Opt-in Forms.
Single and Double Opt-in Forms: What are and how to configure them
The type of Subscription is another item you have to define in order to complete the configuration of your Form. You have to know that this configuration isn't available for WhatsApp Pop-up Forms. These are the main features about each one:
Single Opt-in
In this format, the user subscribes to receive information from a certain company and does not receive a Confirmation Email: just by entering their Email and the information requested, the user has already given its permission to receive communications.
Double Opt-in
In this subscription procedure, the user confirms in different instances the interest on receiving communications from the company. In this way, the identity of the contact is verified to discard unwanted mail.
Good news for your Forms! If you decide to configure a Double Opt-in, you will have the possibility to personalize the following elements:
Name and Email of the sender (for example your company)
Welcome Email to your new Subscribers
Confirmation Email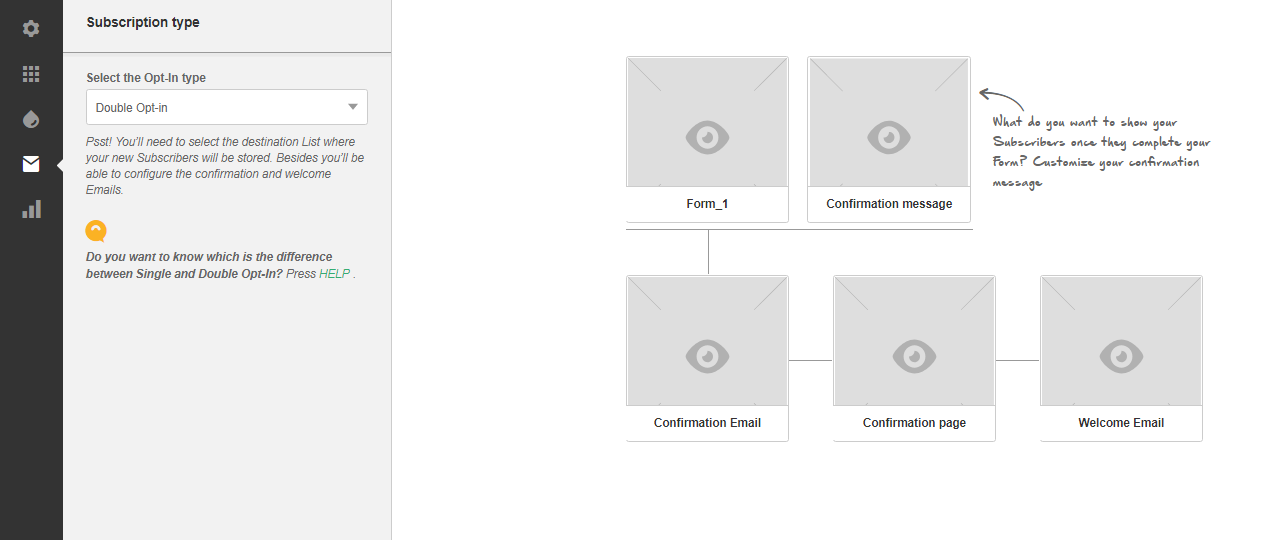 Now you know the differences between Single and Double Opt-in, you can choose the one that satisfies your business needs. Read this article to learn how to set every step on each flow.
Let's see all about SEO and analytics of your Forms.
SEO and analytics
These is related to the information that helps your Forms to appear in the main search engines, and to be shared in Social Media.
From now on, the "Monitoring ID" field will be named "Measurement ID", as it is now named in GA4.

To know in detail the fields included in this section and why it is important that you configure them prior to distributing your Form, review this article.
You're near to put your Form online! Before finish this post, we show you the different distribution options.
Publication and distribution options
Select one or multiple distribution ways. Do you know each one specifically?
Share through a Link (Classic Forms only): the URL of your Form is automatically generated at the same time you create it, so the only thing to do is to copy the URL and share it. This URL will be shown as a Landing Page.

Embed in your Website: for this matter you have to copy a portion of HTML code and embed it in your Website, E-commerce or Blog.

Insert an IFrame on your Website (Classic Forms only): copy and paste the code that Doppler has given you into your Website or Blog. That's all!

Good job! Your Form is ready to be online. Just click on the "Finish" button and start to nurture your Lists with new Leads for your Email and Automation Marketing Campaigns.
Have a great Campaign!