How to create a Subscription Form?
Doppler allows you to create Subscription Forms to feed your Lists in a simple way. This feature has been created for those who would like to include a Subscription Form in their website.
This feature has been created for those users who would like to include a Subscription Form in their website, so they could add Subscribers from this Form directly to one of their Doppler Lists.
How to create a Form in Doppler
There are two different ways to get to the section where you can create new Forms and both will lead you to the same result. Here we explain both ways and you can choose you favourite.
The first thing you must do is enter into the Lists section and select the one you want to feed.
Click on "Create a Form".
Now it's time to name your Form. You will be able to customize it according to Doppler's different features.
Click on "Distribution Types" to get the Iframe code. You'll need it to add the Form to your website or blog.
Also, you can integrate your Form with Facebook so that it appears published in this social network. To do this, select "Embed as facebook".
Finally, if you don't have a website but want your Form to be viewed publicly, you just have to copy its URL.
When your users and potential customers will leave their details to subscribe to your material, a Form like the one shown below appears:
If you're a Doppler client that has no website, you can have an active Form that you can provide to your potential clients, without paste the iframe on any site.
Once you are finished, click the "Save and Close" button. Now you'll see all the Forms you've created.
The other way to access the creation of a Form is, once you have accessed the Lists section, click on Forms.

Once there, you must click on Create Form.

From there, the steps are the same as the explained above, except that when you reach the Form Customization tab , you must select the List you want to feed. Use the drop-down list below the Target List to complete this step.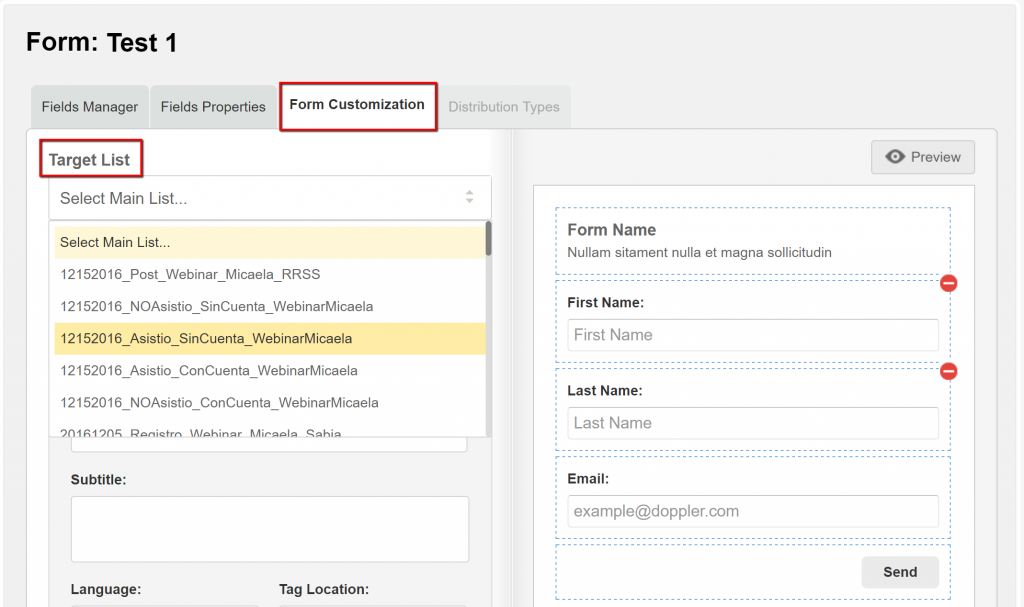 Remember that if you do not complete this step, you will not be able to access the Distribution Types tab to complete the process. So do not forget to choose the List you want to feed in order to finish successfully with the creation of your Form.
On the other hand, you can edit a Form already created from the option "Create Form" as indicated above, by clicking on the pencil-shaped icon.

What are the differences between Simple and Double Opt-In Forms?
This is another aspect that you will have to define when creating your Form. Therefore, here are the main differences of each type:
Simple Opt-In
In this format the user sign up via your Subscription Form to receive information from a certain company and doesn't receive a Confirmation Email in their inbox.
By just entering your Email and other information that is requested, the user has already given permission to the company to send their communications.
Doble Opt-In
In a subscription procedure of this type, the user confirms in different instances his interest in receiving communications from the company. Therefore, the identity of the contact is verified, avoiding receiving Spam.
Now that you know the differences between each subscription type, choose the one that best suits your needs: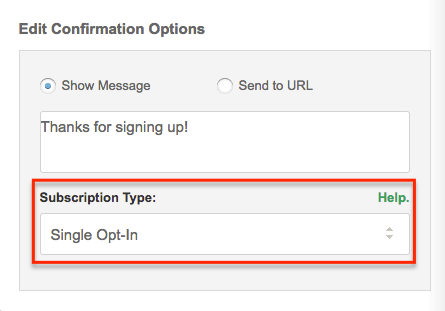 Don't you have your Doppler account yet? You can create it right away and design your Campaigns easily.